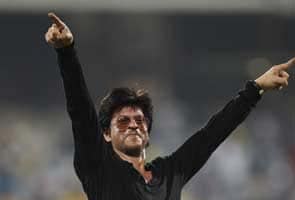 New Delhi:
Bollywood superstar Shah Rukh Khan has entered the list of super-rich Indians who have personal wealth of $300 million or more, says a report.
The actor, who is the co-owner of Red Chillies Entertainment, has been ranked at 114 with personal assets of $400 million, according to the second edition of Hurun India Rich List released on Thursday.
The report says the total wealth of India's top 100 rich people rose to $250 billion this year as compared to $221 billion in the previous year.
With personal wealth of $18.9 billion, Reliance Industries Limited chairman Mukesh Ambani tops the country's rich list followed by London-based ArcelorMittal's chief L.N. Mittal with assets of $15.9 billion.
Dilip Shanghvi, 58, founder of Sun Pharmaceuticals, India's second largest drug maker, broke into the top three for the first time with a 66 per cent surge in his wealth. This rise in stock price was supported by the expected sales of the cancer drug Doxil, following Janssen Pharma Inc's admission of shortage of the drug supply, the report said.
According to the report, 141 individuals in India have personal wealth of $300 million or more. Last year it was only 101 individuals.
In the elite club of 141 super rich people, 101 individuals either retained or increased their wealth and only 40 of them witnessed a decrease in their assets.
Reliance ADA group chairman Anil Ambani is ranked 11th with a personal wealth of $7.1 billion. His wealth has gone up by 34 per cent in the past one year, resulting in promotion of his position by two ranks - thanks to superb performance of Reliance Communications (a 135 per cent jump in share price), the report said.
Men dominate the list with just four percent of it being occupied by women. Steel baroness Savitri Jindal (62), the non-executive chairperson of OP Jindal Group, is the richest Indian woman with a personal fortune pegged at $5.1 billion followed by Indu Jain, 77, chairperson of India's largest media group, Bennett, Coleman & Company, with $1.9 billion personal asset.
"Despite a sluggish economic growth of around 5 per cent, average net worth of millionaires in Hurun India Rich list 2012 increased by $100 million in 2013, demonstrating the resilience of Indian corporates during these tough times," Anas Rahman Junaid, publisher at large, Hurun Report India, said.
"The minimum cut-off mark for finding a place in this year's coveted list was $300 million. Wealth calculations are a snapshot of Oct 18, 2013 when the rate of exchange to the US dollar was Rs.61.5," the report said.
Manufacturing continued to be the main source of wealth in India with 17 percent of the rich list, followed by pharmaceuticals and real estate, which have both seen their percentages drop slightly to 11 per cent and 9 per cent, down from 12 per cent and 10 per cent, respectively.
While Mumbai continues to be the capital for India's super rich, its dominance has dwindled to 33 per cent from 36 per cent last year. Ditto with Delhi and Bangalore, whose percentage of the richest individuals reduced to 16 per cent and 11 per cent, respectively, down from 22 per cent and 15 per cent, respectively.
Nine per cent of India's super rich reside in Dubai.