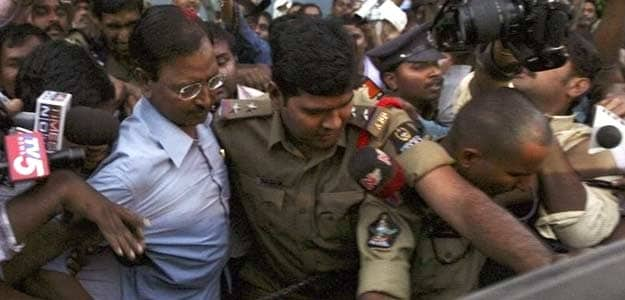 The countdown to Satyam founder Byrraju Ramalinga Raju's explosive confession letter, dated January 7, 2009, can be traced to the failed acquisition attempt of two related companies nearly a month ago.
Late on December 16, 2008, Satyam Computer Services - then India's fourth largest outsourcer - announced the acquisition of Maytas Infra and Maytas Properties, companies related to Mr Raju's family and controlled by same set of promoters, for around Rs 7,700 crore. No shareholder approval was sought for the acquisition, which would have utilized nearly all of Satyam's Rs 5,500 crore cash.
The announcement was met with fierce opposition from domestic as well as foreign investors, who owned a large part of Satyam. The deal was announced after Indian stock markets had closed, but foreign investors were quick to punish Satyam. Satyam American Depository Receipts plunged nearly 55 per cent in overnight trading and when Indian markets opened on December 17, shares in the company fell over 30 per cent to their 52-week-lows near Rs 160.
Faced with the prospects of litigation and further selloff, Mr Raju quickly called off the deal on December 17; a day later on December 18, Satyam announced a board meeting for December 29 to consider share buyback to boost shareholder confidence.
However, the damage to Satyam's credibility was already done. The Corporate Affairs Ministry ordered an investigation into the aborted deal, while a British firm called Upaid filed a law suit against Satyam in in the US. (See Chronology)
Satyam suffered another blow a week later on December 23, when the World Bank barred the company from doing any business with it for the next eight years for "improper benefits to bank staff" and "lack of documentation on invoices".
Two days later on December 25 Satyam's oldest-serving independent director resigned from the board. Three more followed suit later as pressure mounted on directors to disclose what transpired in the board meeting, where the decision to acquire Maytas was taken.
On December 27, Satyam's board meeting, scheduled for December 29 (to discuss buyback of shares) was postponed to January 10 amid news that Mr Raju's family held just 8.61 per cent stake in Satyam, a huge reduction from the 25.60 per cent equity stake his family held in March 2001.
On December 30, Mr Raju wrote a letter to over 50,000 Satyam employees and said his decisions were intended to bring "Satyam back on track".
The start of a new year (2009) brought no respite for Satyam, either. It soon came to light that promoters were left with just 3 per cent stake in Satyam as institutional investors had started selling pledged shares. Through the first week of January 2009, there was widespread speculation that Satyam would soon be acquired by another company.
On January 6, 2009, Satyam's investment banker DSP Merrill Lynch met market regulator Sebi and said it has found serious flaws while carrying out a due diligence exercise in Satyam. The development left Mr Raju with no option, but to confess, which he did through a five-page letter on January 7.
Mr Raju admitted to over Rs 7,000 crore accounting fraud, saying Satyam had overstated profits and falsified assets for years. He wrote, "Every attempt made to eliminate the gap failed. As the promoters held a small percentage of equity, the concern was the poor performance would result in a takeover, thereby exposing the gap. It was like riding a tiger, not knowing how to get off without being eaten". He later retracted that statement. (Read)
Satyam shares crashed nearly 78 per cent on January 7, 2009 - from Rs 179 to end around Rs 40. The BSE Sensex plunged over 7 per cent or 750 points, marking one of the worst selloff in India's history.
Mr Raju was arrested and tried; on Thursday, nearly six years after the fraud came to light, 60-year-old Mr Raju was sentenced to seven years in jail for criminal cheating and conspiracy in what is now described as India's largest-ever corporate scandal. He has also been fined Rs five crore.