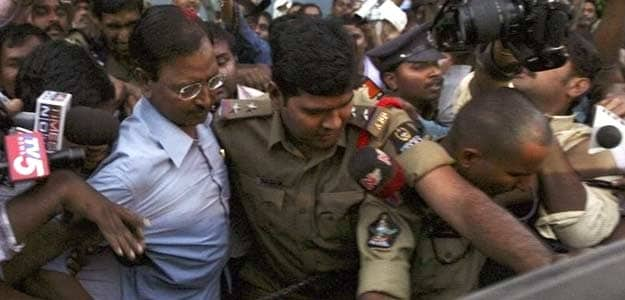 Mumbai: The founder of Satyam Computer Services, once India's fourth-largest software services firm, was sentenced to seven years in prison after being found guilty in an accounting fraud case that ranks as the country's biggest.
A court in Hyderabad, where Satyam was based, on Thursday pronounced Ramalinga Raju, a management graduate from Ohio University who founded Satyam in 1987, guilty of forging documents and falsifying accounts.
Mr Raju admitted in January 2009 in a five-page letter that Satyam's profits had been overstated for years and assets falsified in a fraud allegedly worth over $1.5 billion, bringing the company to the brink of collapse.
Satyam, which in Sanskrit means "truth", was sold the same year to the smaller rival Tech Mahindra Ltd in an auction. The company was later merged with Tech Mahindra, a unit of conglomerate Mahindra & Mahindra Ltd.
The Hyderabad court also found Raju's brother and ex-Satyam managing director, B. Rama Raju, as well as eight others guilty and sentenced them to seven years in prison, special public prosecutor K. Surender said.
"The judgment given by the court will have far reaching consequences in checking corporate frauds and shall also act as a severe deterrent," said Rajesh Narain Gupta, managing partner at law firm SNG & Partners.
All the accused in the case were charged with collaborating to inflate the company's revenue, falsifying accounts and income tax returns and fabricating invoices among other things, the prosecutor said.
Raju and his brother were also fined by the court Rs 5.5 crore ($883,960) each.
Uma Maheshwar Rao, a lawyer for Mr Raju, told Reuters that the Satyam founder would challenge the verdict in a higher court. He did not give details. Some local media reported that an appeal could be filed as soon as Monday.
Softly spoken Mr Raju, born into a family of farmers, was a poster boy of Indian entrepreneurship after setting Satyam on a path of high growth, hiring thousands of staff and bagging lucrative outsourcing contracts from overseas clients.
"It was like riding a tiger, not knowing how to get off without being eaten," he had written in his resignation letter in 2009, detailing years of financial deception at the firm.
Satyam rose to prominence in the late 1990s when Mr Raju was among the first to spot outsourcing opportunities in the year 2000 rollover problem, which saw the coming of age of the software outsourcing industry.
The company, which was listed in New York as well as on the Indian stock markets, specialized in business software and back-office services for clients in the United States and Europe.
($1 = 62.2200 rupees)
© Thomson Reuters 2015