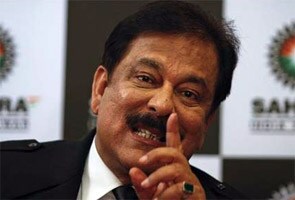 New Delhi
: The Supreme Court has cleared the way for embattled conglomerate Sahara to raise $1.05 billion in fresh loans backed by its overseas hotels, helping the group to fund the bail it needs to release its jailed boss.
Sahara chairman Subrata Roy, one of India's best-known businessmen, has been held in a New Delhi jail for more than 10 months over the group's failure to comply with a court order to refund billions of dollars to investors in outlawed bonds.
The Supreme Court in March last year asked the group to pay bail of $1.6 billion (Rs 10,000 crore) to secure Mr Roy's release.
The court gave its go-ahead to Sahara's plans to remortgage its hotels, but said on Friday it would need to obtain necessary approvals from the Reserve Bank of India (RBI) and other authorities to comply with foreign exchange rules.
Ruling on Sahara's plea, the court also allowed the flamboyant Mr Roy to use a makeshift office inside the jail premises, with facilities such as phones and computers, from January 12 to February 20.
Sahara's three overseas properties, which include the Plaza hotel in New York and the Grosvenor House in London, are tied to a loan from Bank of China. Sahara wants to take over the existing loan and to refinance the properties to raise extra cash.
Sahara failed in its earlier attempt to sell the hotels, and Mr Roy was sent back to jail in early October, after spending almost two months in a makeshift prison office.
Sahara, which has interests in finance, real estate and media among its varied businesses, is a household name in India as the former main sponsor of the Indian cricket team.
While Sahara argues it has repaid most investors, the Supreme Court and the Securities and Exchange Board of India (Sebi) have disputed this.
($1 = 62.4000 rupees)
Copyright @ Thomson Reuters 2015