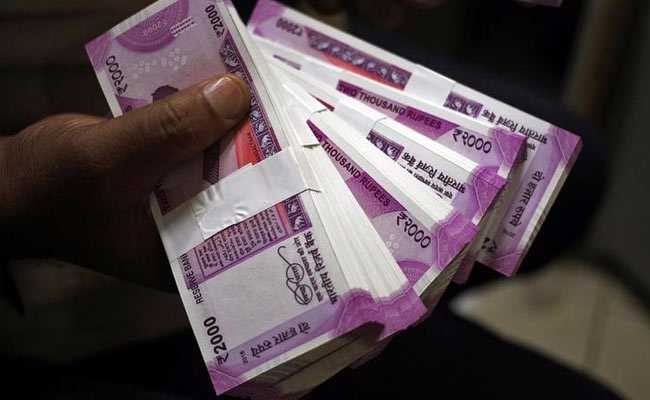 The rupee on Friday crashed below the key 66 level to settle at a 13-month low of 66.12 against the US currency, hit by a resurgent dollar, firming crude prices and a more hawkish tone of the Reserve Bank. Extending its slide for a fifth day, the domestic currency took a hit of 32 paise to close at more than one-year low as the RBI's surprised hawkish tone kept overall sentiment bearish. India's foreign exchange reserves rose to a life-time high of $424.864 billion at the first week of April, aided by increase in foreign currency assets, according to the RBI data. For the week, the rupee depreciated sharply by 0.88 per cent against the dollar.
This is the lowest closing level of the rupee since March 10, 2017, when it had settled at 66.60 against the US dollar.
Rupee Plunges To 13-Month Low. Five Things To Know
1.
Rupee Opened Down:
Extending its bearish market stance, the rupee opened with a big gap-down at 66.06 from Thursday's close of 65.80 at the inter-bank foreign exchange (forex) market. After trading within a very tight range for most part of the day, the local unit drifted sharply towards the fag-end trade to end at the day's lowest level of 66.12, revealing a steep loss of 32 paise, or 0.49 per cent.
2.
Rupee Dropped Over 1%:
The rupee has dropped by more than 1 per cent in April and by 3.52 per cent this year so far. "Indian rupee fell for a fifth session as RBI minutes revealed that RBI's tone is more hawkish than what markets had previously gauged. FII selling and firm oil adds to pressure on rupee, while US dollar is also not expected to yield much ahead of May's FOMC meet," Anand James, Chief Market Strategist at Geojit Financial Services said.
3.
Trade Deficit:
Headwinds in the form of widening in trade deficit due to surging crude prices accompanied by portfolio outflows amid unsupportive global factors have weighed on the local currency in the last few trading session. Overall forex mood turned fragile following a probability of rate hike as early as June despite easing inflation, a currency dealer said.
4.
RBI Outlook:
The RBI earlier this month outlined higher growth expectations for the new fiscal citing strong revival in investment activity and also lowered its inflation forecast. It though kept key policy rate unchanged for the fourth consecutive time since August. Moreover, higher US yields largely supported the greenback. The benchmark US 10-year treasury yield topped 2.90 per cent and was eyeing the elusive 3 per cent level.
5.
Crude Prices Surge:
Meanwhile, crude prices stayed near three-year highs reached earlier this week, supported by continued Middle East tensions and signs of healthy US demand. Brent crude was trading at USD 73.30 a barrel in early Asian trade.