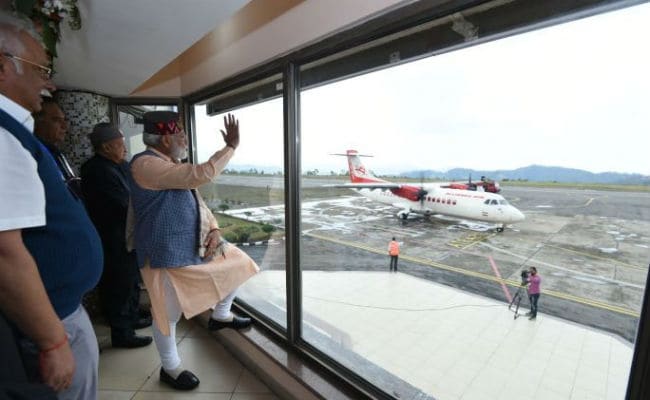 Highlights
UDAN scheme aims to stimulate regional connectivity
Airfare for an hour's journey will be capped at Rs 2,500
PM Modi flagged off the inaugural flight from Shimla
Prime Minister Narendra Modi on Thursday flagged off the maiden flight under the government's ambitious UDAN or 'Ude Desh ka Aam Naagrik' scheme, aimed at stimulating regional connectivity through a market-based mechanism. The inaugural flight - launched by PM Modi from Shimla - was on the Shimla-Delhi route. Under the scheme, airfare for an hour's journey (approximately 500 km) on a fixed wing aircraft or for a 30-minute journey on a helicopter would be capped at Rs 2,500, the Prime Minister's Office (PMO) has said. He also inaugurated flights on the Kadapa-Hyderabad and the Nanded-Hyderabad sectors through a video conference. The prime minister announced that the next flight to take off under the scheme would operate on the Mumbai-Nanded sector.
"Our aim is that Hawaii chappal wale log bhi hawaijahaz ke sair kar saken, (people in rubber slippers should also fly)," he said, while launching the regional connectivity scheme (RCS).
"UDAN makes air travel accessible to a wider range of citizens and enhances connectivity with many more airports across India," PM Modi tweeted.
UDAN makes air travel accessible to a wider range of citizens & enhances connectivity with many more airports across India. pic.twitter.com/X2wVIq6130

— Narendra Modi (@narendramodi) April 27, 2017
This marked Prime Minister Modi's first visit to Shimla after assuming office. The airport at Jubbarhatti, which is 22 km from Shimla and is located 2,196 metres above sea-level, was shut for scheduled flights since September 6, 2012.
The UDAN Scheme, a key component of the National Civil Aviation Policy (NCAP), was released on June 15 last year.
The Civil Aviation Ministry has already awarded 128 routes connecting 70 airports to five airlines under the UDAN scheme: Alliance Air, SpiceJet, Air Deccan, Air Odisha and Turbo Megha. On each flight, 50 per cent of the seats would have a cap of Rs 2,500 per seat/hour. These flights would connect airports spread across over 20 states and union territories.
Under the UDAN scheme, the government will extend subsidy in the form of viability gap funding to the operators flying on these routes. Apart from various incentives, the operators of such flights would be extended viability gap funding - for which money is partly raised through a levy of on flights operating in major routes like Delhi and Mumbai. The viability gap funding would be in place for three years for the airlines concerned from the date of starting operations in a particular UDAN route. Other benefits include zero airport charges for the operators and three-year exclusivity on the routes.
Amber Dubey, partner and head of aerospace and defence at KPMG in India, said timely payment of viability gap funding to the operators would be key to sustainable operations.
"India's air penetration is lagging its peers at similar income levels, and is at the cusp of rapid growth. UDAN will catalyse this, by encouraging capacity addition and by bringing the economic benefits of air connectivity to a level after which it becomes self sustainable. It has the potential to significantly expand the number of Urban centers driving economic growth. While it is a central government program, the state governments have an equally critical role in contributing to its success. Local connectivity, for example, will be key to expanding the hinterland of the airports in the rural connectivity scheme, thereby helping achieve critical mass for self sufficiency. For airlines, the first mover advantage can be significant, as they shape the market," Manish B Agarwal of PwC India said.
(With Agency Inputs)