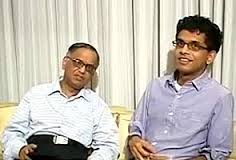 New Delhi:
Rohan Murty, who had joined his father N.R. Narayana Murthy as an executive assistant at Infosys, may have been elevated as the vice-president of India's second largest IT exporter.
According to a report in a local business daily, which cited people familiar with the development, Rohan was given the designation around a week back.
There was, however, no confirmation on the development from the company, the report added. PTI couldn't independently confirm the news either.
To a query if Mr. Murty had become vice-president, an Infosys spokesperson told PTI: "Rohan Murty's appointment at Infosys is yet to be approved by the Ministry of Corporate Affairs."
The spokesperson further said: "His designation in the company will be confirmed once the process of his appointment has been completed."
Narayana Murthy, who returned to Infosys as the executive chairman in June, had then said that his son would have no leadership role in the company and he was being brought in only to make him "more effective".
"Rohan will be my executive assistant. He has no leadership role," he had said, adding that Infosys had competent executive directors on the board and a "very strong" cadre of senior management.
Thirty-year-old Rohan is a junior fellow at the Society of Fellows at Harvard University. He is a PhD in Computer Science from the university and did his Bachelor's in Computer Science from Cornell University. He has held fellowships at MIT, Caltech and Microsoft Research.
Rohan's term as executive assistant to the chairman is co-terminus with that of Narayana Murthy. He had requested that he should also be paid only a token compensation of Re 1 per year.
Rohan's elevation also lends strong credence to rise of the children of some of India's prominent businessmen in the IT services space, signalling the way for eventual succession.
According to analysts, the step-by-step promotion is the process of grooming the incumbent for higher responsibilities in the company.
Roshni Nadar Malhotra, the CEO of HCL Corporation and a trustee of the Shiv Nadar Foundation, was last month appointed non-executive director on the board of HCL Technologies, India's fourth largest IT services exporter.
Although, HCL did not elaborate on the role Mr. Nadar will play, but, it is a clear signal of her growing role in the IT services exporter.
The son of IT czar Azim Premji, Rishad Premji, who joined Wipro in 2007 as business head for special projects in the banking and financial services vertical rose to become chief strategy officer of the firm in 2010.
Mr. Rishad was also promoted to the post of vice-president of the country's third largest software services exporter in June this year.
In January 2013, Azim Premji had said his son Rishad will never be the chief executive of his company Wipro, but will represent promoter ownership on the company's board.