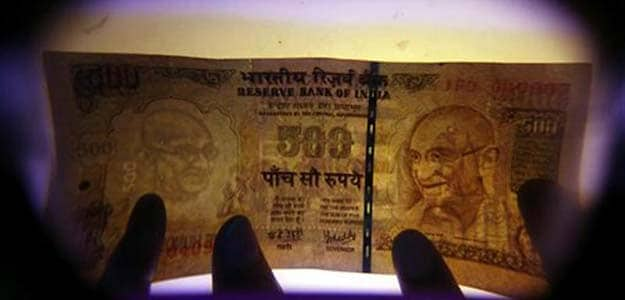 As the Reserve Bank gears up for a trial of plastic currency notes, it has to dispose of soiled paper currency bills worth an estimated amount of over Rs 2 lakh crore a year.
On an average, one out of five paper notes in circulation (over 20 per cent) gets disposed of every year after getting soiled and the number of such soiled currency bills stood at over 13 billion units during the fiscal year ended March 31, 2012, as per the latest data available with RBI.
The figures are not yet available for the last fiscal year 2012-13, but the number of soiled currency notes has remained above 13 billion for at least three financial years.
As per the RBI data, the total value of all currency notes in circulation stood at over Rs 10.5 lakh crore at the end of financial year 2011-12. However, soiled notes valued at an estimated amount of Rs 2.05 lakh crore had to be moved out of circulation by RBI during that fiscal year.
A proposed introduction of plastic or polymer currency notes, depending on the success of a trial pilot project, is expected to tackle this problem to a large extent because of a much longer shelf-life of the plastic bills.
Pioneered by Australia, the plastic currency notes are already in use across a number of other countries, including Singapore, Canada, New Zealand, Malaysia, Vietnam, Fiji, Brunei, Papua New Guinea and Romania, while the UK is also said to be toying with the idea.
In India, the RBI is planning to introduce one billion pieces of Rs 10 notes in polymer or plastic on a trial basis in Kochi, Mysore, Jaipur, Bhubaneswar and Shimla, although a timeline is yet to be decided.
Addressing the students of Business School of Kashmir University in Srinagar last week, RBI Governor D Subbarao had said that the central bank is trying to introduce plastic currency, as they have longer shelf life.
"We hope to introduce it on a trial basis and if that succeeds, it will be replicated in the entire country," he had said.
The proposed launch follows years of consultations over the feasibility of plastic notes in the country. Way back in early 2000s, the RBI had rejected a similar proposal, but it later began working seriously on trying out plastic notes, given their high longevity and growing menace of paper bills getting soiled and the rising costs of their disposal.
At the same time, the successful launch of plastic notes across various countries has also led to a serious thought over similar practices in India, experts say, while adding that the concerns over greater possibility of counterfeit notes in plastic format have also been addressed to a large extent.
According to Gerry Wilson of Australia-based Commonwealth Scientific and Industrial Research Organisation (CSIRO), the polymer notes have longer life time and can be produced at a faster rate than paper currency.
Mr Wilson is Theme Leader (Flexible Electronics), Materials Science and Engineering, at CSIRO, which worked closely with the Reserve Bank of Australia in developing polymer notes. Australia was the first country to shift to these currencies.
Replying to PTI queries on plastic notes, Mr Wilson said that polymer notes would be suitable for "tropical and sub-tropical conditions" and the lifeline could be more than four times longer than their paper equivalent for even lower denomination notes which are used more frequently.
Leading consultancy Ernst & Young's Partner & National Leader (Global Financial Services) Ashvin Parekh said there are huge benefits of using plastic currencies.
"In the case of plastic currency, the life cycle would be much longer than paper currency. This will result in significant cost benefit. "Secondly, plastic currency is highly secure. The security features in plastic currencies will be difficult to tamper with," he noted.
Industry body Ficci's Secretary General A Didar Singh said that RBI's move to introduce plastic notes would be an environment-friendly measure and extend the life of currency.
He stressed that plastic notes would help in eliminating the problem of soiled notes. Banks are using machines and manpower to handle soiled notes and "all are expensive and also waste of time for people as well as for banks," he added.
"Also, the technology in printing plastic notes involves highly sophisticated processes. It would, therefore, be highly difficult to manufacture duplicate notes. Thus distribution of fake and duplicate currency notes can be controlled," he said.
According to CSIRO, polymer notes can be printed much faster, in some cases up to 10 per cent faster, than the paper notes, while plastic notes can also be suitable for Indian weather conditions.
"India has a wide range of climates. Fortunately, being a non-porous substrate polymer notes do not become soggy and limp in hot, humid conditions and so are perfectly suited to tropical and sub-tropical conditions," Mr Wilson said.
These notes can also be granulated and recycled into products like garden furniture and other plastic items.
Mr Wilson, however, said creating public awareness about plastic notes and handling of such currencies could pose some challenge in India.
When it comes to security features of polymer currencies, Wilson said that "a very obvious transparent window is integrated into the overall design is a security feature that has thwarted many a potential counterfeiter."
"This is a strong anti-counterfeiting feature as it is inherent to the note. It is not easily copied or simulated and it is also a rather simple way to prevent photocopying or scanning and printing a counterfeit note," he said.
Polymer notes also have a feature of change in colour of printed images when the note is tilted. Mr Wilson, however, cautioned that since such colour shifting inks are becoming commercially available, the public needs to be well informed about the specific colour shift so that it is not misled by counterfeit note using a commercially available ink.