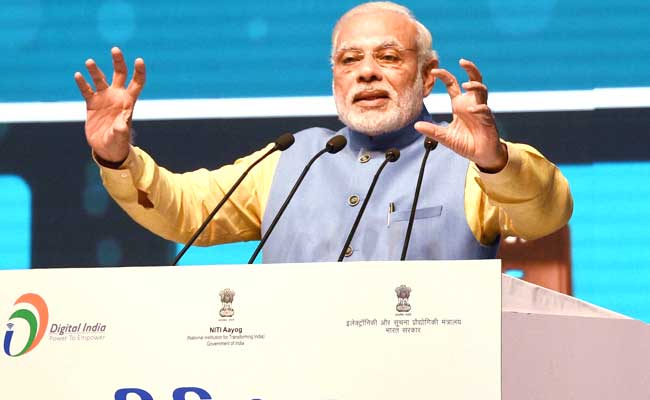 Nagpur:
The BHIM-Aadhaar Pay mobile application launched by Prime Minister Narendra Modi will boost "transparency and honesty" in payment of income tax in the country, Union Law and IT Minister Ravi Shankar Prasad said here today. "The essence and the idea behind the Prime Minister's 'Digital India' initiative is that if we send Rs 100 from Delhi, then it must fully reach to the poor beneficiary.
That is the reason some 28 crore bank accounts have been opened for the poor in the last two years," said Prasad. He was addressing a programme to mark the culmination of "Digi Dhan Mela" organised by the NITI Aayog at the divisional sports stadium located in Mankapur area. Apart from PM Modi, Union ministers Nitin Gadkari, Piyush Goyal, Hansraj Ahir, Ramdas Athawle, and Maharashtra Chief Minister Devendra Fadnavis were present on the dais.
Modi today paid tribute to B R Ambedkar at Deekshabhoomi here, where the Dalit icon had embraced
Buddhism, to mark his 126th birth anniversary. He launched BHIM-Aadhaar mobile application, a
biometric-based payment system which will make payment through thumb impression a reality.
Prasad said, "as many as 113 crore Aadhaar cards, 108 crore mobile phones, 50 crore internet users, 35 crore smart phones have been connected under 'Digital India'."
He said that 72 mobile manufacturing companies have entered India since Modi government assumed power. "The whole world is discussing about the Aadhaar initiative of India," he said. The minister said that the launch of the "BHIM-Aadhaar Pay" app will boost transparency and honesty in payment of income tax. "It will also help in making the Indian Army as well as Indian roads the strongest in the world," he said.
On the occasion, Prasad announced a 20,000 square metre "Incubation centre" in Nagpur for making it "new IT centre of the country."
Addressing the gathering, Union Highways Minsiter Nitin Gadkari termed the Digital India initiative "a very big and progressive thinking to fulfill the dreams of Dr Babasaheb Ambedkar." "'Digital India' will provide economic and social justice to the poor and farmers. The Digital India initiative will have a lot of positive impact on various sectors in the country," he said.
(Except for the headline, this story has not been edited by NDTV staff and is published from a syndicated feed.)