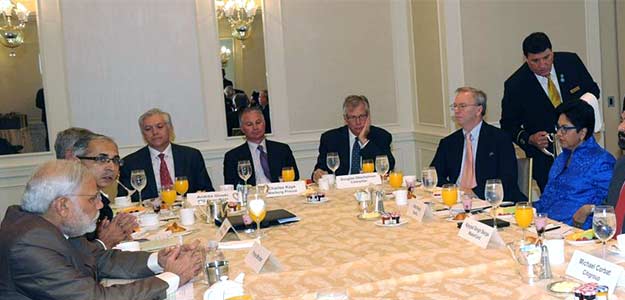 New York: Making a strong pitch to attract investments into India, Prime Minister Narendra Modi on Monday assured top American corporate honchos of tax stability and a friendlier business environment in the country.

Mr Modi, who is on his maiden visit to the United States as Prime Minister, held meetings with a galaxy of American corporate executives including those from Boeing, PepsiCo, Google, KKR and General Electric.

Bullish on the potential of the Indian market, the corporates expressed keenness to strengthen their engagements with India especially at a time when the new government is rolling out various initiatives such as the 'Make in India' campaign.

"It is my conviction that tax stability is essential for confidence building," PM Modi told American CEOs.

His assertion comes at a time when some multinationals are caught in legal wrangles over tax matters in the country.

Wooing the corporates, he said he wants to convert the Supreme Court judgment on coal allocation into an "opportunity to move forward and clean up the past". The observation comes amid concerns that the ruling could negatively impact investor sentiment and overall business climate.

During his meetings with captains of corporate America, PM Modi also pitched for big-ticket investments to develop India's infrastructure and create more jobs and enhance the quality of life.

Reflecting the bullishness on India, Jeff Immelt, chief executive of US conglomerate General Electric, described the country as a great place to invest in and said that his company is looking to make more investments here.

After meeting Mr Modi, he said, "GE is a long-term investor in India. We look forward to more in the future." (Read more)

Describing Mr Modi as a "charismatic leader", Goldman Sachs chief Lloyd Blankfein said the financial services major was eager to participate in India's growth story.


American corporates including technology major IBM have expressed interest to participate in diverse initiatives of the Indian government including those pertaining to smart cities.
Defence major Boeing's CEO, James McNerney, said that the company wants to accelerate its engagement with India.
During the meeting with the Prime Minister, technology major IBM's CEO, Virginia Rometty, evinced interest to participate in the government's new initiatives related to smart cities and digital India.
Reflecting optimism over opportunities in the country, Laurence Flik, chief executive of the world's largest asset manager Blackrock, conveyed to PM Modi that his company would host a global investor meet in India next year.
After meeting Mr Modi, India-origin PepsiCo chief Indra Nooyi said, "He answers questions brilliantly and is very focused on improving India. So, we are thrilled to be working with him."
Another India-origin CEO Ajay Banga, who is at the helm of MasterCard, said the Prime Minister was a good listener and that he believed that Mr Modi can execute plans like the way he did in Gujarat.
Among others, the Prime Minister held a meeting with private equity giant KKR's CEO, Henry Kravis.
This is the first extensive business engagement in the US of the Prime Minister, who will also attend business meets in Washington on Tuesday during the second leg of his 5-day visit.