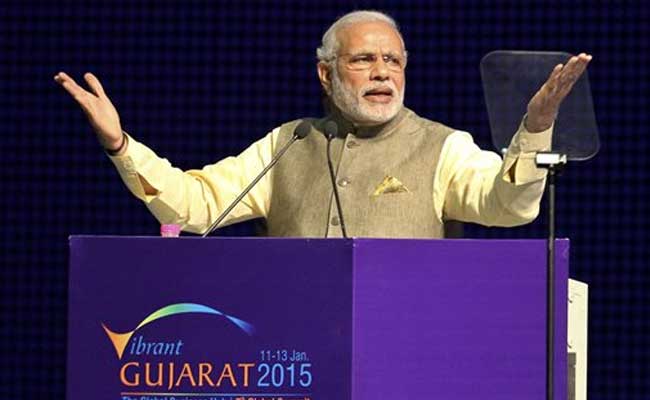 Highlights
Gujarat is no longer the easiest place to do business in India
It lost the top rank to rivals Andhra Pradesh and Telangana in 2016
The Gujarat story is slowly eroding, says an analyst
It has been touted as 'Davos of the East,' but the biannual investors meet created by Narendra Modi in his home state of Gujarat has been losing sheen since he left to take charge as prime minister of India.

Gujarat's new chief minister is barely five months into the job after his predecessor quit following prolonged violent protests by young people in search of jobs. Questions are mounting over how many of the state's record investment pledges are actually implemented, and it has lost its top spot in the World Bank's ease of doing business rankings.

The four-day 'Vibrant Gujarat' summit starting today will be the last before state elections likely to be held this year. PM Modi governed Gujarat uninterrupted over 2001-2014, using its performance to burnish his credentials for the national campaign which he won two-and-a-half years ago with the biggest mandate in three decades.

"The Gujarat story is slowly eroding," said Ajoy Bose, a Delhi-based analyst who's written books on local leaders. "Losing a man of such a big stature like Modi is bound to affect the profile of the state," said Bose, adding that social unrest and political instability are also playing a part. "All these factors are affecting investors' minds."

The 2017 gathering, too, will see a line up of business and political leaders such as Cisco Systems Inc. Chairman John Chambers and Portuguese Prime Minister Antonio Costa. PM Modi is scheduled to address the audience at 3:30 p.m. local time on Tuesday.

Gujarat is one of the India's wealthiest states, with industries including chemicals, petrochemicals, pharmaceuticals, cement, gems, textiles and engineering. It is the world's largest producer of processed diamonds and largest manufacturer of denim in the country.

More than 25 trillion rupees ($366 billion) worth of investment pledges are expected from the summit, the Press Trust of India reported, more than India's entire budgeted expenditure and topping the amount received in 2015. "In terms of MoUs we have crossed 24,000 as compared to 21,500 in the 2015 summit," JN Singh, chief secretary to the Gujarat government, told the Mint newspaper.

Skepticism Increasing

However, skepticism is increasing about how much of this is actually converted into money spent.

The Gujarat government pegs the conversion rate at almost 70 percent and some of India's biggest businesses including Reliance Industries Ltd. and the Adani Group said last month that they have fulfilled most of their commitments. However, the opposition Congress party claims the conversion rate is below 10 percent.


Of nearly 40 trillion rupees of proposed investments at the meetings from 2003 to 2011, about 8 percent were implemented, according to figures published by Gujarat's Directorate of Economics and Statistics. The Mint in January said 57 percent of proposals made between 2003 and 2015 have been commissioned or are under implementation, citing the Socio-Economic Review of Gujarat for 2015-16.
Other states, such as Maharashtra that doesn't hold a comparable investor meet, has seen projects increase over the recent years. Maharashtra also attracted the most foreign direct investment -- 30 percent of India's total between 2000-2016 -- while Gujarat ranked fifth with 4 percent.
Gujarat is no longer the easiest place to do business in India, after it lost its top rank to southern rivals Andhra Pradesh and Telangana in 2016.
Even so, Vibrant Gujarat must be remembered as a trailblazer in terms of Indian investment meetings, pushing PM Modi's peers in West Bengal and Rajasthan to start their own summits, said Rajiv Biswas, Singapore-based Asia-Pacific chief economist at IHS Global Insight.
"By trying to emulate the Davos Forum concept, it has been successful in attracting high profile global business leaders to India," said Biswas. "This also forces states to undertake reforms to improve the investment climate to become more competitive."
Rising social unrest in Gujarat could prove a concern for investors. A trio of groups representing castes at the bottom of India's rigid social hierarchy joined forces with contract labor and threatened to disrupt the 2017 Vibrant Gujarat summit. They backed off after Chief Minister Vijay Rupani said his administration was considering employing as many as possible of these workers as full-time government employees.
The state is also witnessing a backlash against jobless economic growth that's spreading across India -- in August 2015 PM Modi was forced to send in the troops to quell the unrest.
"While the primary focus is Gujarat, the summit provides a forum for interaction with potential investors with other representatives from other investment destinations," said Utkarsh Palnitkar, partner and national head, infrastructure, government, healthcare and life sciences practice at KPMG.