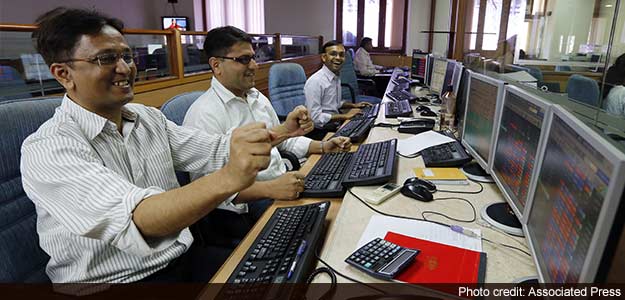 The naming of Narendra Modi as the BJP's prime ministerial candidate in September 2013 triggered a bull run in Indian stock markets that culminated with the BSE Sensex hitting an all-time high of 25,375.63 on May 16, the day when election results were announced.
The Sensex is up almost 25 per cent since mid-September and in a span of six-eight months India has gone from one of the most vulnerable emerging countries to one of the favourites among foreign investors; overseas funds have poured more than $20 billion into Indian stocks and bonds in the past six months.
The big question after the sharp run-up is what next? Most analysts are of the view that India is now in a long-term bull market. According to billionaire investor Rakesh Jhunjhunwala Indian stock markets are heading for the mother of all bull runs, which could last for 10-20 years. (Read the full story here)
Ridham Desai, managing director of Morgan Stanley India, quantified this optimism last week when he told NDTV that the Sensex can hit 75,000 in the next 10 years if Indian equities can deliver 12-14 per cent return per annum over the decade. (Watch)
Now, domestic brokerage Karvy has gone a step further and said the Sensex can rise to 1,00,000 by December 2020.
"Falling cost of equity, an earnings growth between 20-25 per cent and multiple rerating (earnings) from 15 times to 16-17 times in the next few years could lead to a 25 per cent compounding of Sensex returns, which will take it to 100,000 levels by Calendar year 2020," said Varun Goel of Karvy.
Can Indian markets grow at such a pace for five to six years at a stretch? Goel says there have been several instances of such rapid growth in the past.
The Dow Jones Average experienced its most spectacular rise in 1980s, when the 30-share index surged from 769 in 1982 to 2,742 in 1987 (3.6 times in a span of five years). America's most tracked index jumped from 2,344 in 1990 to 11,750 in 2000 (5 times in a span of 10 years).
This period of high returns in the US coincided with an economic revival after a period of stagflation in 1970s, which led to aggressive monetary tightening by Federal Reserve Governor Paul Volcker, Goel says, arguing that conditions in India are ripe for an economic rebound.
"The challenge for the new government in India is to quickly revive the investment cycle. Big infrastructure projects need to be provided quick access to capital, speedy environmental and forest clearances and policy support... Quick execution of such projects will provide massive employment, provide quick transportation for goods, lead to productivity gains and will have large trickle down effects on the adjoining towns and villages leading to revival in consumption demand," Mr Goel says.
The other thing which can lead to increase in GDP growth is making India a big player in the manufacturing space, Mr Goel added.
"There is no reason that India can't see a prolonged economic growth cycle with low inflation. The prolonged economic growth can create similar equity market returns in India as seen in United States in 1980s," Mr Goel said.