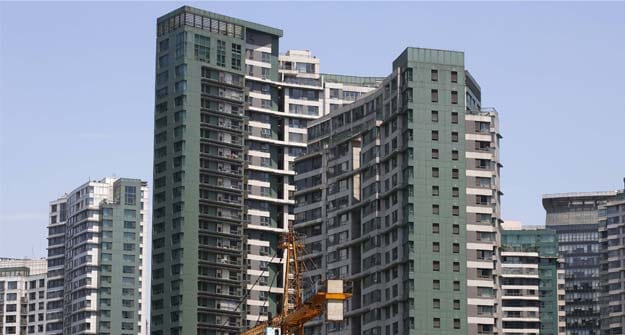 "Location, location, location"
It is a frequent motto used to emphasize the importance that a location has on the value of a real estate

property. The heart of the message is clear -- if you pick the right spot to invest your property in, you can be rewarded with a handsome return on investment.
The Indian economy is in an interesting stage right now. On one end of the spectrum, signs are pointing towards an economic surge. The Sensex hit an all-time high a week ago, the RBI seems to be making all the right moves to curb inflation and bring stability to the rupee and analysts can be frequently heard commentating that finally it's a "trading market". This means the economy is picking up, the share market is ripe for investments and therefore investors and traders can take advantage of the opportunities being presented to earn profits.
However, a quick way to see whether a country's economy is improving is to simply look at its real estate prices. If real estate sales fall, then real estate prices eventually fall in tandem. This then reduces the value of all homeowners, whether they are looking to actively sell or not. The result is that there is a reduction in home loans granted to those same homeowners. Finally, this reduces consumer spending which results in reduced GDP.
So all in all, real estate prices or sales are a great indicator of a country's economy.
With the Sensex hitting new highs and RBI Governor Raghuram Rajan promising all sorts of ground-breaking changes to propel the economy (on 6th November, the RBI unleashed a far reaching set of new rules that will allow foreign banks to enter India's protected domestic environment), you would expect real estate prices to be surging upward. And yet, this is not what is happening.
The RBI has been consistently raising the repo rate, which is the rate that banks are charged to borrow from the RBI- in recent months. These past few days, major banks such as State Bank of India and HDFC Bank raised the rates to obtain loans to purchase houses, and the trend is unlikely to stop as the RBI is expected to continue raising rates to fight inflation.
This all translates to bad news for the real estate market. Home-owners will have a more difficult time obtaining loans to purchase houses. Already, cities such as Mumbai are facing a downturn in the real estate market, despite the mass public perhaps not being aware about it.
Usually, before a bubble "bursts", price rises begin to slowly drop. This is currently being evidenced across the country. The National Housing Bank's Residex, which tracks housing prices across 26 prominent cities in India, showed that in the April-June period, 22 cities saw a fall in prices compared to the previous quarter.
Mumbai and Delhi saw prices drop by 0.5 per cent and 1.5 per cent, respectively. While properties in Chennai dropped by 2.3 per cent and properties in Kolkata dropped by 4.1 per cent.
When looking at nominal numbers, which is not comparing to the previous quarter when adjusted for inflation, out of the 15 largest cities in India, house prices actually fell in 11 out of the 15 cities in the second quarter of 2013. This is absolutely alarming. For example, Kolkata saw a dramatic -12.9 per cent drop in prices when adjusted for inflation, and Surat saw a -11.5 per cent drop in prices when adjusted for inflation. Here is a table that demonstrates the drop in prices between 2012 and 2013.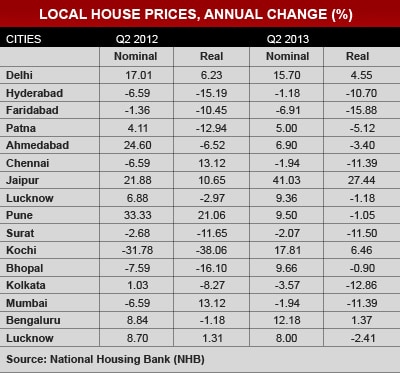 The most alarming fact is that builders, in order to not cause a panic among homeowners and the public, try their best to not drop prices even if it leads to higher vacancy rates. After all, it takes almost 2 years to obtain the 57-odd permissions required to begin construction of a project.
As real estate prices boomed in 2011 and through early 2012, builders began building away. Yet by the end of 2012 it became evident that homes were not selling at the price points that builders had previously anticipated.
As of right now, 11.09 million homes in urban areas across India are lying vacant. New home sales in Delhi NCR fell by 13 per cent, Mumbai by 12 per cent, 15 per cent in Pune, and 7 per cent in Chennai during Q3 in comparison to Q2.
One example of a builder facing the housing dilemma is the Orbit Grand property in Mumbai, built by Orbit Corporation which is one of the country's most prominent builders. This building project was to house at least 35 floors of elegant apartments, yet after completion of 10 floors construction work had to be stopped. Similar instances can be heard from all over India.
According to Mr. Sanjay Dutt, the executive managing director for South Asia at Cushman & Wakefield, "There has been the willingness of developers to hold growing inventories of unsold apartments, shops and offices without offering price discounts. The volume of real estate transactions has slumped in India as developers have refused to offer discounts for fear of starting a market rout."
If builders drop prices, investors will undoubtedly begin to panic, and a self-fulfilling prophecy will unwind.
So the question arises: what actually causes a bubble to "burst"?
As of now, builders are already stopping work on projects, as evidenced by the Orbit Grand example. Eventually, as demand does not meet the supply of apartments and builders begin defaulting, buyers begin losing interest in purchasing new homes (as evidenced by the plunge in new home sales in Delhi NCR). For now sellers are refusing to cut prices out of fear of causing panic; but eventually they will have no choice but to cut prices. At that point, the bubble bursts and prices can drop dramatically and immediately.
To show the devastating impact of a real estate bubble, let us look at the BSE Realty Index, which tracks 13 real estate based companies. Since the launch of the Index on 10th July, 2007 the Index has depreciated more than 80 per cent in value, with a huge 80 per cent drop happening just during the calendar year of 2008. The year 2008 is when the bubble occurred. Meanwhile, the Sensex has appreciated 47 per cent from 10th July 2007 till date.
If another bubble were to occur, we could very well witness a similar scenario. The frightening aspect is that all signs are pointing towards the same direction.
If you're looking to invest in real estate, it might be wise to wait for the bubble to burst. You will then have plenty of options available to pick your location.
Raghu Kumar is the co-founder of RKSV, a broking company. The opinions expressed here are the personal opinions of the author. NDTV is not responsible for the accuracy, completeness, suitability or validity of any information given here. All information is provided on an as-is basis. The information, facts or opinions appearing on the blog do not reflect the views of NDTV and NDTV does not assume any responsibility or liability for the same.