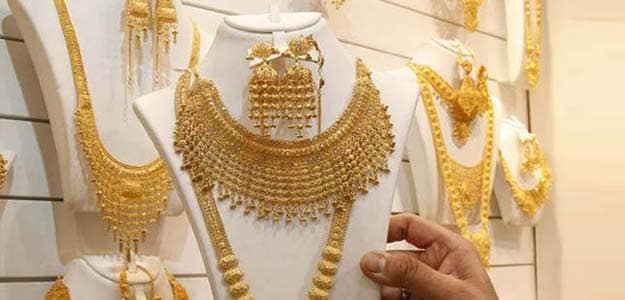 London:
Global gold demand dropped 11 per cent in the three months to September from record levels seen in the same period last year, dampened mainly by fading Chinese fervour as its economy slowed, with stronger Indian demand stemming a larger fall, the World Gold Council (WGC) said.

Chinese gold consumption fell 8 per cent in the July to September period to 176.8 tonnes, the WGC's quarterly demand trends report showed on Thursday, with both jewellery and investment demand hurt by a slowing economic growth.

Data last month showed China's economy slowed for a seventh straight quarter in the July to September period. Chinese bar and coin investment dropped 12 per cent to 53 tonnes, while jewellery buying fell 5 per cent to 123.8 tonnes.

"The fall in Chinese demand coincides with weaker economic numbers in China in Q3," the WGC's managing director of investment research Marcus Grubb said. "There is some evidence that the economic situation is stabilising in China and recovery is starting... it's possible that the stimulus measures have worked and the economy has bottomed out."

"If that's true, we won't see a repeat of this Chinese weakness in the fourth quarter," he said.

China is second to India as the world's biggest gold consumer. Indian demand rose in the last quarter by 9 per cent to 223.1 tonnes, reversing the trend of the previous three quarters, with pent-up consumer demand lifting the market.

First-half buying was dented by jewellers' strikes, a hike in import duty and a dearth of auspicious days for weddings.

"Finally we're starting to see the Indian market come back," Mr Grubb said. "And the anecdotal evidence is good looking forward to fourth quarter demand - premiums are high again in the Mumbai market, and the strength of the rupee has meant you have seen rupee prices moderate somewhat."

India's consumer gold demand remains down 24 per cent in the first three-quarters of the year, however, and is unlikely to record a net increase in 2012 as a whole, the WGC said.

JEWELLERY, BAR DEMAND ABATES


Global jewellery consumption dipped 2 per cent to 448.8 tonnes, while coins and bar demand fell 30 per cent. European investors, particularly in German-speaking markets, accounted for half of the 128.1-tonne decrease in bar and coin demand.
"European investment is lower than it's been for some time in the retail market. You're not seeing that insurance demand and safe asset demand from Germany and Switzerland that we were seeing last year," Mr Grubb said.
Coin and bar demand also fell by 52 per cent in the United States to 10.5 tonnes, and by 66 per cent in Turkey to 7.9 tonnes. Indonesia, Taiwan and Thailand also saw large declines.
Bullion demand to back gold exchange-traded funds - which issue securities backed by physical metal - jumped to 136 tonnes from 87.4 tonnes, however.
Central banks continued to diversify their reserves into gold in the third quarter, but buying was down by nearly a third year-on-year. Official sector demand reached 97.6 tonnes last quarter, down from 140.8 tonnes a year before.
Mr Grubb said in the full year demand was likely to outstrip 2011's 47-year high.
"The quarter was bad, but we're still ahead of where we were last year, which was a record going back to 1964," he said. "If we get another 100 tonnes or so in the fourth quarter, you're talking a figure for the full year that's higher than 2011."
Copyright @ Thomson Reuters 2012