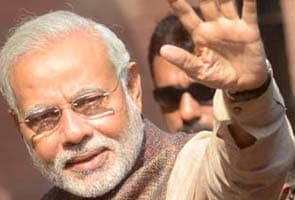 New Delhi:
Endorsing Prime Minister Narendra Modi's vision of India outlined in his address to Parliament, India Inc said efforts to improve farm productivity, rein in price rise and impart skills to youth will transform the nation in the days to come.
"His (Modi's) response in the Parliament reaffirms government's commitment to deliver on the expectations of people of India. The address reflected a true national vision for enhancing India's global standing, which has been one of the key imperatives suggested by us," Ficci president Sidharth Birla said.
Vowing to control inflation, Mr Modi on Wednesday said improving agriculture productivity through modern farm techniques and university-farmer collaboration hold the key to check price rise.
He said the foremost priority of his government would be uplift of the poor and ensuring that nobody is without a house with water, electricity and toilet by 2022, when the country celebrates 75th year of independence.
"We fully endorse his (Modi's) dream of providing housing for all and ensuring that modern amenities, including electricity, broadband connectivity, sanitation and education reach every household," said Ajay Shriram, president of the Confederation of Indian Industry (CII).
Emphasising the importance of increasing farm productivity, Mr Modi said there is a need for use of modern technique in the agriculture sector because farm land is shrinking with rising population.
The Prime Minister talked about his "dreams" of ensuring the country's progress and converting the image from "scam India" to "skills India" through "cooperative federalism".
"We are happy to note that a special mention of skill development was made by the Prime Minister as a means to empower our workforce. According to CII, the existing educational framework needs to be overhauled in order to develop a relevant framework to provide skills training to the vast majority of our labour force," Mr Shriram said.
"The Prime Minister has caught the right pulse by laying out the road map focusing on use of technology and skill development to make a breakthrough in addressing social and economic issues. Having an employment ready workforce is an imperative for meeting the aspirations of the youth for social stability," Mr Birla said.
In its election manifesto, the BJP had promised that it would rein in prices if it came to power.
The manifesto had listed many steps to contain inflation, including a price stabilisation fund, setting up of special courts to deal with hoarding and black marketing, unbundling of the Food Corporation of India (FCI) and establishment of national agriculture market.