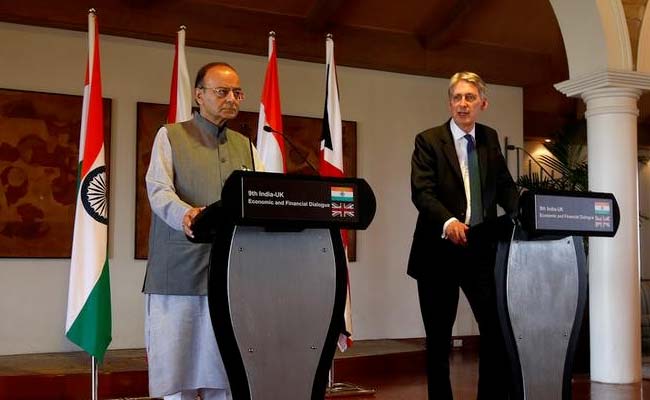 New Delhi:
India and Britain on Tuesday talked up their prospects of developing a new trading relationship, as their finance ministers met in New Delhi to prepare for the United Kingdom's exit from the European Union.
British finance minister Philip Hammond flew in to New Delhi for talks with Indian counterpart Arun Jaitley, days after Prime Minister Theresa May triggered the start of the Brexit process after last June's referendum vote to quit the European Union.
Hammond played down the risks of a so-called "hard Brexit", in which Britain would lose access to the markets of the bloc's other 27 nations if the two sides cannot reach a consensus deal within a two-year deadline.
"We have made the decision that we will not be part of the structure of the European Union, but we've also made very clear that we want to negotiate the maximum possible open trade relationship with the European Union," Hammond told a news conference after a joint economic and financial dialogue.
"We hope to be able to negotiate a deep and special relationship with the European Union that will allow us to go on trading and investing in each other's economy, but at the same time allow us to rebuild our relationships with our partners and allies around the world."
HUGE ASPIRATION
In India, the world's fastest-growing large economy with a population of 1.3 billion, Britain has a massive market opportunity - but also a counterpart not known for favouring free trade.
May met a cool reception on her first visit to India last November, with Prime Minister Narendra Modi stressing the importance not only of trade but also of freedom of movement for his country's skilled workers.
Still, Jaitley struck a positive note by saying, "The United Kingdom, post-Brexit, is looking at a different level of relationship with India. And there's a huge aspiration in India itself also, to add to, and improve on, this relationship."
No formal negotiations on a bilateral free trade agreement would be possible until Britain has formally left the European Union, but Hammond said the two sides would have a "deep discussion" in the meantime.
In a joint statement, the ministers highlighted a pact for each country to invest 120 million pounds ($149 million) in a joint fund under India's National Investment and Infrastructure Fund to invest in energy and renewables.
They also discussed efforts to make India's rupee currency more freely tradeable on international markets, and promote 'masala' bonds for Indian companies to borrow in their own currency from investors in the City of London.
The National Highways Authority of India, the Indian Renewable Energy Development Agency and the Indian Railway Finance Corporation all plan to issue masala bonds in the coming months, they added.
© Thomson Reuters 2017
(This story has not been edited by NDTV staff and is auto-generated from a syndicated feed.)