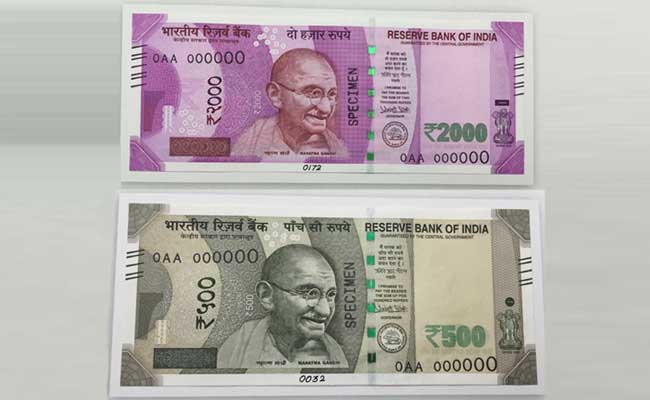 Highlights
RBI pays printing cost of Rs 3,090 for 1,000 notes of Rs 500
For Rs 2,000 notes, the central bank shells out Rs 3,540 for 1,000 pieces
RBI also issuing new batch of Rs 500 notes
A new Rs 500 note costs Rs 3.09 to print, while the magenta 2,000 rupee note costs Rs 3.54, the Bharatiya Reserve Bank Note Mudran Private Limited (BRBNMPL), which prints currency notes, has said.
BRBNMPL, a wholly owned subsidiary of the Reserve Bank of India or RBI, said in its reply to an Right to Information (RTI) query that it charges the central bank Rs 3,090 for printing 1,000 notes of Rs 500, the same as it did for the old Rs 500 note that was abolished alongwith 1000 rupee notes last month.
For the Rs 2,000 denomination, RBI shells out Rs 3,540 for 1,000 pieces, the same rate as that for the demonetised Rs 1,000 note.
The central bank on Monday said it is issuing a new batch of Rs 500 notes in the Mahatma Gandhi (New) series with the inset letter 'R' in both the number panels.
"In continuation of issuing of Rs 500 denomination banknotes in Mahatma Gandhi (new) series which are currently legal tender, a new batch of banknotes with inset letter 'R' in both the number panels, bearing the signature of Dr Urjit R Patel Governor, Reserve Bank of India, with the year of printing '2016' are being issued," RBI said in a notification.
The Reserve Bank also said it will shortly issue Rs 50 denomination notes in the Mahatma Gandhi Series-2005, with the letters 'R' and 'L' inserted both the number panels.
"These banknotes (Rs 50 notes with insert letter L and R) have the ascending size of numerals in the number panels; the banknotes are similar to the banknotes of Rs 50 issued earlier in Mahatma Gandhi Series-2005," the RBI said.
Prime Minister Narendra Modi had announced the ban on 500 and 1000 rupee notes on November 8 in a move aimed at eliminating money laundering and black or untaxed money.
It wiped out 86 per cent of the money in circulation worth Rs 15.44 lakh crore. The government has so far replaced about 6 lakh crore in new currency.
(With inputs from PTI)