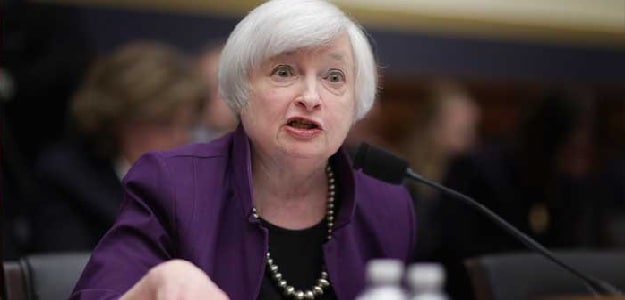 The US Federal Reserve on Wednesday hiked its benchmark interest rate by 25 basis points as widely expected. This is the first time in nearly a decade that the US central bank has raised rates. The Fed's move was being closely watched globally because it impacts financial markets and commodities.
US stock markets rallied
after the Fed's announcement.
Here's how the Fed's historic liftoff may impact India:
1)
Fed Chairperson Janet Yellen's "dovish" commentary will prevent any kneejerk reaction in the coming days, analysts say. The Fed's monetary policy remains "accommodative" and there will be a "gradual" increase in Fed fund rates, Ms Yellen said. (
Read more
)
2)
Much of what happens in India will depend on how foreign institutional investors (FIIs) react to the Fed hike. FIIs have withdrawn nearly $2.5 billion from domestic markets since November in anticipation of a hike. Now that the actual announcement has come, things are likely to calm down, analysts say.
"Just like how the quantitative easing tapering news was more potent than the actual tapering, markets will self-adjust once the rate hike is announced as this news gets factored in," said Madan Sabnavis of Care Ratings.
3)
India's 7 per cent growth rate may seem modest, but it's enough to attract the interest of global investors, analysts say. Morgan Stanley on Wednesday retained its "overweight" position on India, saying the country scores the "best" in macroeconomic risk amongst all 27 emerging markets countries. India also scores well relatively in its corporate profitability amongst emerging markets countries, it added.
4)
The Fed's rate hike is based on the belief that the US economy is doing well. Faster growth in US - the world's biggest economy - augurs well for India. Economic Affairs Secretary Shaktikanta Das said that the recovery in US economy will especially be beneficial for domestic IT companies.
US Fed confidence on recovery is good news for our exports, especially from IT sector.

— Shaktikanta Das (@DasShaktikanta) December 16, 2015
5)
Domestic stock markets and currency have been nervous in the run-up to the Fed's announcement; the broader Sensex and Nifty hit three-month lows last week, while the rupee sank below 67/dollar to a 25-month low earlier this week. However, markets as well as rupee have rebounded this week as a 25-basis point Fed rate hike got factored in.
"Once the Fed event gets over tonight, tomorrow morning we should be up and running," said Sanjiv Bhasin, executive vice president (markets and corporate affairs) at domestic brokerage IIFL. He expects the Nifty to rally from 7,750 to 8,100 over the next two weeks.
Care Ratings expects the rupee to showcase a pullback towards 66 per dollar, citing the stability in balance of payments.