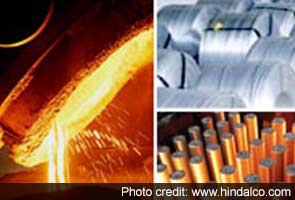 Shares of Hindalco Industries Ltd are trading sharply higher after US rival Alcoa Inc reported better-than-expected earnings, several traders said.
Alcoa also increased its 2014 growth estimate for the North America commercial transportation market.
Shares of Hindalco, India's leading aluminium producer, rose as much as 5.1 per cent to Rs177.6. Its unit Novelis Inc directly competes with Alcoa in the North American markets.
As of 11:18 a.m., shares of Hindalco Industries Ltd were trading at Rs. 176.25 apiece on BSE, up by 4.38% from previous close.
Copyright: Thomson Reuters 2014