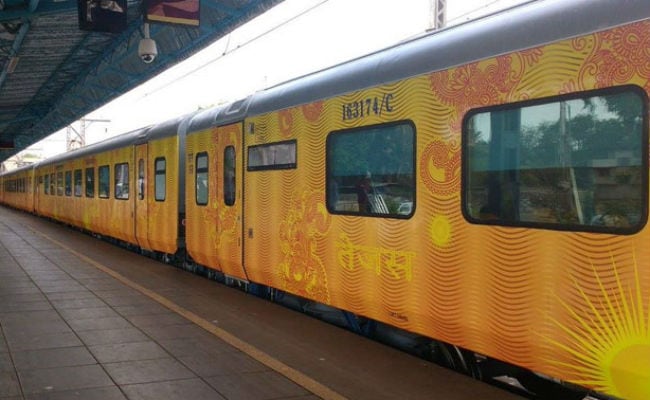 Highlights
Railway minister on Monday flagged off Tejas Express on Mumbai-Goa route
Tejas Express coaches come equipped with automatic doors, Wi-Fi, LCDs
Trains have capacity to run at speed of 200 kilometres per hour
The newest addition to the Indian Railways, Tejas Express is flagged off on the Mumbai-Goa route by Railway Minister Suresh Prabhu today. Aimed to run at a speed of 130 kilometres per hour (kmph), Tejas has coaches equipped with automatic doors (like in metro trains), Wi-Fi and LCD screens. Tejas has a capacity to run at a speed of 200 kmph. The 20-coach modern train has executive class and chair car with tea and coffee vending machines, magazines and snacks tables. For passengers' security, Tejas Express is equipped with close circuit television cameras (CCTVs). With a promise of flight-like experience, the scheduled duration of the travel will be of eight and a half hours.
Here are few things that you should know about the Tejas Express:1.
Tejas Express will depart from Chhatrapati Shivaji Terminus Mumbai (CSTM) at 5 am on every Tuesday, Wednesday, Friday, Saturday and Sunday from May 24 and arrive Karmali at 1:30 pm on the same day. And, it will leave Karmali at 2:30 pm on every Tuesday, Wednesday, Friday, Saturday and Sunday from May 23 and arrive Chhatrapati Shivaji Terminus Mumbai at 11 pm same day.
2.
During monsoon season, it will depart from Mumbai on every Monday, Wednesday and Saturday and will leave Karmali at 7:30 am on every Tuesday, Thursday and Sunday.
3.
With an increase of around 20 per cent in the base fare against Shatabdi, the executive class fare in Tejas has been fixed at Rs 2,540 without food and Rs 2,940 with food. And, the chair car fare will be Rs 1,850 with food and Rs 1,220 without food. The railways also has planned optional onboard catering services.
4.
"If a passenger does not opt for catering services at the time of booking the ticket and decides to buy meals onboard, an extra amount of Rs 50 per service in addition to the prescribed catering charges, shall be charged subject to availability," said DK Sharma, General Manager of the Central Railway.
5.
The current Shatabdi fares are Rs 2,390 for the executive class and Rs 1,185 for the chair car which includes food also.
6.
Tejas will halt at five stations (Dadar, Thane, Panvel, Ratnagiri and Kudal).
7.
It has one executive air-conditioned chair car with 56 seating capacity and 12 air-conditioned chair cars with 78 seat capacity of each coach.
8.
On board infotainment, fire and smoke detection facilities and GPS-based passenger information display system are few additional features of Tejas Express.
9.
The coaches of the Tejas Express also include other features like touch-less water taps, water level indicators and hand dryers and bio-vacuum toilets.
10.
Soon, the Tejas Express will also be pressed into service in Delhi-Chandigarh and Delhi-Lucknow sectors.
(With Agency Inputs)