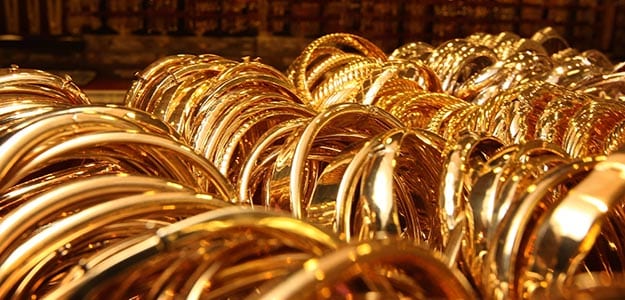 Gold prices slipped by Rs 75 to Rs 31,475 per 10 gram at the bullion market on Monday in line with weak global trend, reported news agency Press Trust of India (PTI). According to traders, gold and silver prices declined on the back of weak trend overseas. In the national capital, gold of 99.9 per cent purity declined to Rs 31,475 per 10 gram. Gold of 99.5 per cent purity declined marginally to Rs 31,325 per 10 gram from Rs 31,340 per 10 gram. Silver rates also fell on Monday by Rs 150 to Rs 38,950 per kg.
Here are 5 things to know about gold, silver prices today:
1. Sovereign gold on Monday remained flat at Rs 24,500 per eight gram.
2. Globally, gold dropped 0.57 per cent to $1189.40 per ounce while silver fell 0.63 per cent to $ 14.62 per ounce in New York. Gold prices as the dollar firmed against its peers in the wake of indications from the US Federal Reserve last week that it will pursue a tighter monetary policy.
3. "Gold is trading range bound. The Federal Reserve's decision to raise interest rate by 25 bps pressurized the gold. However, continued depreciation in the rupee contained losses in the rupee. US will release Q2 GDP, Core durable goods orders & pending home sales in the evening session. Hence we expect the yellow metal & the dollar to be volatile", said Jigar Trivedi, Fundamental Research Analyst, Anand Rathi Commodities.
4. On Saturday, gold bounced back by Rs 250 to Rs 31,550 per 10 gram at the bullion market.
5. Silver coin rates fell to Rs 72,000 per 100 pieces on Monday, from Rs 73,000 earlier. Silver for weekly-based delivery dropped by Rs 130 to Rs 38,520 per kg.
(With agencies inputs)