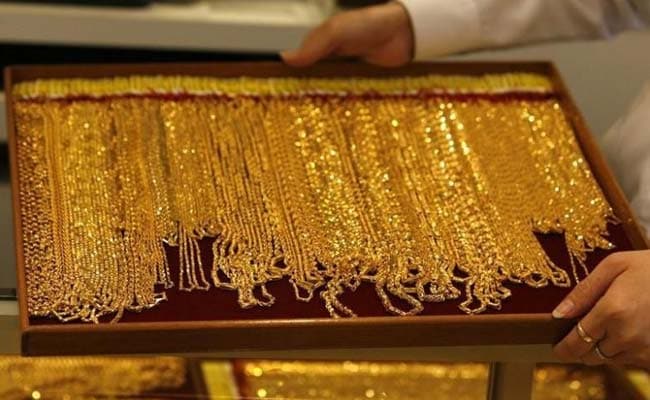 Domestic gold futures registered mild losses on Thursday but still held near the Rs 48,000 per 10 grams mark, a day after the yellow metal registered an all-time high. Gold prices have broken a multitude of records over the past few weeks amid wild swings in the equity markets. Although domestic equity benchmarks Sensex and Nifty have retraced more than one-third of the losses suffered in March, gold continues to quote at unprecedented levels. Typically, gold shares an inverse relationship with shares, and the safe-haven appeal of the precious metal rises with any sign of increased risk in equities. (Track Gold Rate In India Here)
Gold futures due for an August 5 delivery moved in a narrow range on Thursday, quoting between Rs 47,902 and Rs 48,273 per 10 grams on the Multi Commodity Exchange (MCX) during the session. On Wednesday, the gold futures contract had soared to a record level of Rs 48,982 per 10 grams, before shutting shop at Rs 48,267 per 10 grams for the day.
In the international market, gold prices steadied below the previous day's near eight-year peak as investor appetite for higher-risk assets such as equities improved following encouraging coronavirus vaccine trials, and ahead of US jobs data later in the day. Spot gold was last seen trading little changed at $1,772.33 per ounce.
Analysts say gold prices are likely to appreciate further in the near term.
"Gold has been on a dream run given the risk aversion sentiment prevailing. World ETF (exchange traded fund) holdings have been steadily on the rise and looks like the momentum may continue," said Lakshmi Iyer, chief investment officer (debt) and head products at Kotak Mahindra Asset Management Company.
Sky-high gold prices have kept potential buyers in the country at bay over the past few weeks.
According to Mumbai-based industry body India Bullion and Jewellers Association (IBJA), the price of gold jewellery settled at Rs 48,308 per 10 grams on Thursday. This rate excludes GST.
The retail price of gold jewellery varies from region to region in India - which is the second largest consumer of the yellow metal. That is because of factors such as excise duty, value-added tax (VAT) - which varies from state to state - and making charges.
"Gold prices may take smaller breathers, but so long as uncertainty on COVID-19 prevails, prices may continue the northward journey," Ms Iyer added.
#Gold and #Silver Closing #Rates for 02/07/2020#IBJApic.twitter.com/xpY77mjFcV

— IBJA #StayHomeStaySafe (@IBJA1919) July 2, 2020
Financial experts say the containment of COVID-19 around the globe is expected to be a key determinant for gold prices going forward.
"One-year return for gold currently stands around 25 per cent and given the current global economic environment and geopolitical milieu, this trend is expected to continue," said Rahul Agarwal, director at Wealth Discovery, a Delhi-based financial services firm.
The trend in gold is expected to continue for at least the next couple of years, he added.
Still, jewellers remain optimistic on the demand for gold going ahead, and expect prices to correct with easing of COVID-19-related concerns.
"The effect on the prices of gold is only for a limited period of time... India is a country of festivals and lucrative weddings, so the price does not affect much during the season as in our country jewellery is the major part of Indian tradition and heritage. The hike in the gold prices is not for too long," said Saurabh A Khandelwal, founder of Delhi-based diamond jewellery maker Dhanvi Diamonds.
"Demand is a little less as of now... but as time passes and when the upcoming marriage season will be around the price will be at the same base it was for many years," he added.