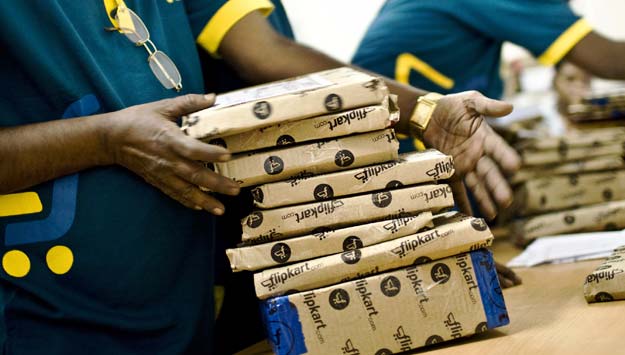 Flipkart, India's largest online retailer, acquired fashion portal Myntra on Thursday and said it would invest $100 million (nearly Rs 600 crore), in the fashion business.

"It's a 100 per cent acquisition and going forward we have big plans in this segment," said Sachin Bansal, co-founder of Bangalore-based Flipkart.

Financial details of the deal were not disclosed, but Reuters citing a source said the transaction was valued at close to $300 million, or nearly Rs 1,800 crore.
The deal gives Flipkart a stronger hold in the fast-growing online fashion business in India. Bangalore-based Flipkart, set up by two ex-Amazon employees in 2007, has sought to grow its presence in this segment, where Myntra is the market leader.


Myntra will continue to operate as a separate entity with its co-founder and CEO Mukesh Bansal joining Flipkart board and heading the fashion business.
"It was very essential to keep Myntra a separate entity and preserve its culture. I'm here for the long haul and we will continue to grow in the market," Mukesh Bansal said.
Bangalore-based Myntra was established by four IIT alumni - Mukesh Bansal, Ashutosh Lawania, Imran Khan and Vineet Saxena - in February 2007.
Tiger Global Management and Accel Partners are investors in both Flipkart and Myntra. E-Commerce companies like Flipkart & Myntra are, on an average, growing at 40-45 per cent annually.
The deal comes at a time when domestic online retailers are gearing up for tough competition after Amazon, the world's biggest online retailer, last year slashed prices and rolled out next-day delivery in a bid to win market share in India's fast-growing e-commerce industry.
The Indian e-commerce market was worth $13 billion, or nearly Rs 75,000 crore, in 2013, according to a joint report by KPMG and the Internet and Mobile Association of India, with online travel accounting for over 70 per cent of consumer e-commerce transactions last year.
Online sales of retail goods totaled $1.6 billion, or nearly Rs 10,000 crore, in 2013, according to research firm Forrester, and are expected to reach $76 billion, or nearly Rs 4.5 lakh crore, by 2021, according to consultancy Technopak.
($1=Rs 59)