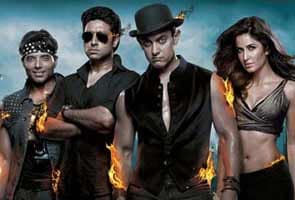 Aamir Khan-starrer Dhoom 3 has grossed an estimated Rs. 170 crore in its first three days, breaking many box-office records on its way. Dhoom 3's opening week collection is also a record for any Bollywood movie, both in terms of domestic earning and overseas figures.
NDTV spoke to Pramod Arora, president & CEO of PVR, who was optimistic that the movie would break many records. Here's an edited transcript.
What kind of profits are you seeing for PVR from Dhoom 3?
Undoubtedly Dhoom 3 has done an unprecedented set of numbers, which we believe is really going to help the numbers in this quarter. There haven't been very many movies which have done numbers in this quarter. I was just listening to you talking about the club this may enter in to. I think this may enter into the 300 crore club which is being spoken in the industry and the fraternity. And this is unprecedented. This has never happened before but most likely it seems that this movie is going to turn the fortunes around for most of the multiplex operators across the country, including us.
Are their expectations at PVR that you are going to see Rs 300 crore collections from Dhoom 3?
That will be unprecedented. To suggest that the Bollywood has come out of ages in terms of numbers, it is really generating numbers which are global in nature. And movies like Dhoom 3, if we have even 2 or 3 such movies in a year it can really turn fortunes of multiplex owners across the country.
For PVR how much does that translate into?
It is very difficult to peg numbers right now and how will the fortunes turn around as this movie goes in, but most likely this movie looks like going in for about 3 weeks. And if it does so, then we are talking about huge numbers. It could be as good as Rs 50-60 crore coming out.
But obviously majority of profits from Dhoom 3 will reflect only in the 4th quarter?
Not really. If you look at Q3 (October to December quarter), it's going to have 11 days of screening and if all goes as has been planned, one could be looking at this movie doing blockbuster collections across major shows. That will really turn all numbers around.
What's the lineup for Q4 (January to March)? What kind of blockbuster movie are we likely to see?
You know, immensely strong. Q3 was not such a good quarter except for Dhoom 3. Q4 seems to be great quarter, coming with Jai Ho as the first one in the lineup and then there are a slew of movies coming every week. We have our fingers crossed for Q4, which could again set record of sorts. Usually during exam times movies are not released but this time producers have gone ahead and are releasing major movies in this quarter. So, we are looking forward to great set of numbers.
Get Breaking news, live coverage, and Latest News from India and around the world on NDTV.com. Catch all the Live TV action on NDTV 24x7 and NDTV India. Like us on Facebook or follow us on Twitter and Instagram for latest news and live news updates.