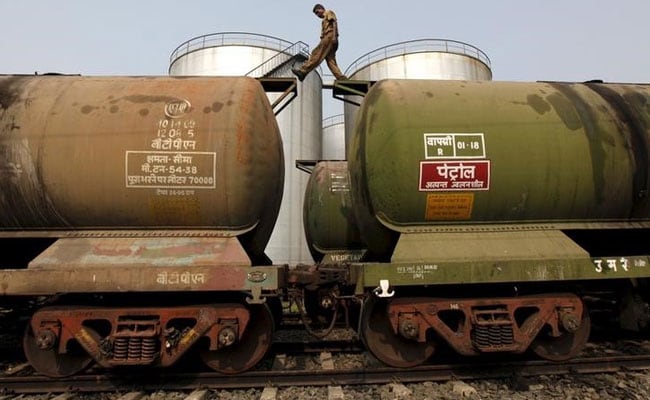 Crude oil prices touched new four-year highs on Tuesday. Brent crude - the international benchmark for crude oil - touched $82.20 a barrel during Tuesday's session. That marked a level beyond the last peak witnessed in November 2014. Expectation of a tightening supply in the global oil market in the coming months has pushed crude oil prices higher, say analysts. But why are crude oil prices rising again? The latest bout of weakness in crude oil prices comes ahead of start of sanctions by the United States on Iran, the third-largest producer among OPEC (Organization of the Petroleum Exporting Countries) member countries.
Domestic petrol and diesel prices touched new record highs in the backdrop of continued weakness in the rupee against the US dollar. High crude oil prices tend to widen the current account deficit for India, which meets more than 80 per cent of its oil requirement through imports.
Here are 10 things to know about rising crude oil prices:
1. The sanctions imposed by the US on Iranian crude exports will come into effect from November 4. Saudi Arabia and Russia have ruled out immediate production increases, after the United States' call for increase in supplies by the top producers.
2. The US administration has demanded that the OPEC or Organization of the Petroleum Exporting Countries and Russia increase their supplies to make up for the expected fall in Iranian exports.
3. Analysts expect crude oil prices to stay under pressure on the back of a deadlock on supply between the top producers and the world's largest economy.
4. Release of US crude data will be watched closely by oil investors going forward. "Given the current oil market scenario, we believe prices of crude oil are to rise around $78/bbl -$80/bbl unless the number of rigs deployed by the by the United States are increased," said credit ratings agency CARE Ratings.
5. "Now, as the deadline of sanctions on Iran is nearing and as the OPEC & non OPEC countries have consistently shown their reluctance over increasing production, the latest phase of bull rally has become more & more impulsive," said Gaurav Katariya, research head (commodity), Arihant Capital Markets. "$82 may be a short lived resistance as the rally is very impulsive and any correction of, say, 3 to 4 per cent, from here will only bring in strong buying."
6. Brent oil prices are expected to remain at elevated levels. "Brent oil prices are set to rise further from current levels on supply disruption after Iran sanctions and a broader range of $80 to $90 per barrel looks achievable in the last quarter of this year," said Abhishek Bansal, founder and chairman of ABans Group of Companies.
7. Commodity merchants Trafigura and Mercuria have predicted that crude oil prices will touch $100 a barrel by the end of 2018, according to news agency Reuters. Bank of America Merrill Lynch lifted its average Brent price forecast for 2019 from $75 per barrel to $80 a barrel.
8. After the sanctions on Iran exports come into effect, oil prices "are likely to go even higher given an expected drop in supply from major producers Iran and Venezuela and political and price escalation prevailing in the markets", CARE Ratings added.
9. The OPEC has 15 member countries including Iran, Iraq, Kuwait, Saudi Arabia, Venezuela, Qatar, the UAE and Nigeria. At the start of 2017, OPEC members and Russia, a non-OPEC supplier, together agreed to curtail output in an oversupplied market.
10. The OPEC has, in its World Oil Outlook 2018, said that the demand for OPEC crude is projected to increase to around 40 million barrels per day in 2040, up from million barrels per day in 2018. The share of OPEC crude in the global oil supply is estimated to increase from 34 per cent in 2017 to 36 per cent in 2040.
(With agency inputs)