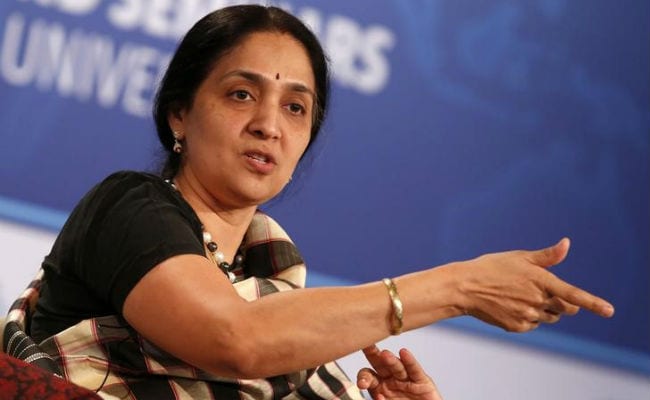 Highlights
Chitra Ramkrishna has tendered her resignation due to 'personal reasons'
Ms Ramkrishna has been with the NSE since its inception in 1992
J. Ravichandran, currently NSE President, has been appointed interim CEO
National Stock Exchange CEO Chitra Ramkrishna has tendered her resignation due to "personal reasons", which has been accepted by the board, the country's biggest bourse said in a statement on Friday.
Her departure comes months ahead of a planned initial public offer, which is being keenly awaited in the market as one of the biggest IPOs in recent times. Rival BSE is also in the process of launching its IPO.
J. Ravichandran, currently NSE President, has been appointed interim CEO with immediate effect, while the board starts proceedings to find a new chief executive, the exchange added.
"Ramkrishna had tendered her resignation due to personal reasons and expressed her desire to step down with immediate effect," the NSE said.
"The Board, while accepting her request, appreciated her sterling contribution to the growth of the organisation over the long years that she had been associated with it."
Ms Ramkrishna has been with the NSE since its inception in 1992 and last month itself she was named Chairperson of the board of World Federation of Exchanges (WFE), a global body of more than 200 market infrastructure providers, including exchanges.
She took over as MD and CEO of NSE with effect from April 1, 2013 for a period of five years. She has also served as NSE's Joint Managing Director.
Ms Ramkrishna has been among the select few women leaders at the helm of leading stock exchanges around the world. She was part of the leadership team that helped set up the National Stock Exchange (NSE) in the early 90s and was only the third person to head the bourse in its entire history of about two decades.