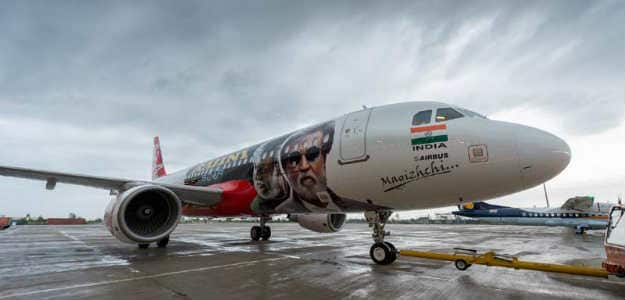 With superstar Rajnikanth's new film Kabali set to release next week, a entire range of merchandise - mugs, phone covers, T shirts - are flying off the shelves. But there is more. All the Rajni fans can fly in an aircraft with a giant Kabali poster painted on it and have a "Kabali menu" on the flight.
That is the"Fly like a Superstar" offer from AirAsia, the official airline partner for the film, for its passengers flying out of Delhi and Bengaluru. The 'Kabali menu' is made up of food that Rajnikanth enjoys, the airline says.
A special aircraft is being readied for take off to coincide with the release of the film.
Other big brands that have tied up with Kabali's producers in an attempt to reach the mega star's millions of fans include Amazon, Cadbury's Five Star, Air Asia, Shopcj, Emami, Muthoot Finanace and Airtel.
As part of Airtel's Kabali offers, users can wish the superstar through an exclusive SMS channel and selected messages will be compiled into a coffee table book and presented to Rajnikanth, the company has promised.
Airtel is also offering special "Kabali" recharge packs, 'Kabali' branded SIM packs and popular dialogues and songs from the film as "hello tunes."
"We believe this is a great chance for our customers to really get a part of this greatest release for this year, the most sought after release. It is towards that that we are doing this," said George Mathen, Bharti Airtel's CEO for the Kerala and Tamil Nadu Hub.
Online retail platform Amazon has a range of Kabali goodies - key chains, wax statues, posters, photographs - starting from Rs 90 to Rs 400. Companies like Coveritup are offering a more premium range of personalized merchandise.
The Kerala-based company Muthoot Fincorp has special silver coins which feature an embossed image of Rajinikanth and will be available at all their branches.