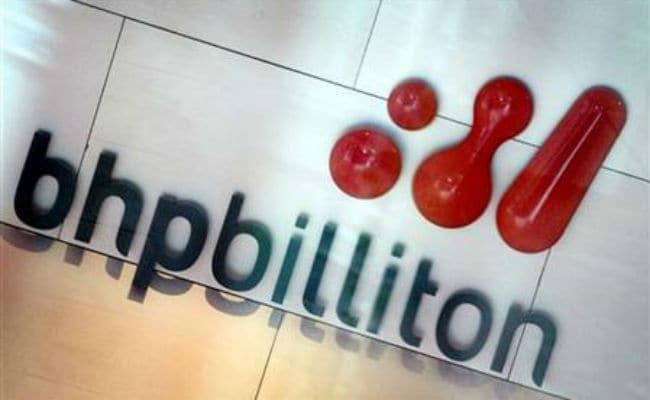 Melbourne:
BHP Billiton reported a record $6.4 billion annual loss on Tuesday, hammered by a bad bet on shale, a dam disaster in Brazil and a commodities slump, but sounded a note of optimism as prices stabilise and its costs fall.
The world's biggest mining company said cost cuts and a reduction in net debt should see it double its free cash flow to more than $7 billion this year at current prices for its major commodities, iron ore, copper, coal, and oil and gas.
Chief Executive Andrew Mackenzie said it was too early to say the worst is over for the resources industry, and expected markets to remain volatile within recent ranges.
"But perhaps, more importantly, the fact is that there is some sense that prices have stopped falling as opposed to being in free fall," Mackenzie told reporters on a conference call.
Excluding $7.7 billion in writedowns and charges, underlying profit still slumped 81 per cent to $1.2 billion for the year to June 2016 from $6.4 billion a year ago, hit by weak commodity prices.
The underlying profit was the weakest since the merger of BHP and Billiton in 2001, but better than analysts' expectations of around $1.1 billion, underpinned by iron ore and copper.
"While the headline loss is horrific, BHP is performing well on an underlying basis," Jefferies analyst Chris LaFemina said in a note.
The petroleum business, which sets BHP apart from its main rivals, slid to a loss, as it cut production from its U.S. shale wells, as oil prices slid 42 per cent and gas prices dropped by a third.
COMMITTED TO OIL
Despite the dismal showing, Mackenzie said the company remains committed to holding on to the onshore U.S. petroleum business, alongside the company's mining assets.
"There are many who choose to hold our bonds and our shares who see that that combination provides a dampening of long range volatility that attracts them to invest. It's a fundamental part of how we work," Mackenzie said.
BHP's coal arm also reported a loss, largely hit by weaker prices.
"For all the talk of diversification, it's the iron ore buisness that's the real generator of profit," said Andy Forster, a portfolio manager at Argo Investments.
Shoring itself up against tough markets, BHP, like rival Rio Tinto, in February abandoned its long-held policy of never cutting dividends, and flagged instead it would pay out at least 50 per cent of underlying profit from then on.
It announced a full-year dividend of 30 cents, which it said was more than the minimum under its new payout policy, but just below analysts' forecasts around 32 cents.
Mackenzie said the dividend payout reflected the company's confidence in its ability to generate strong cash flow as commodity prices stabilise.
"That pause in the price fall means that we can continue to drive down costs and open up a margin which, instead of only sharing with our customers, we can now share with investment in our company and with our investors.
Net debt rose slightly from December to $26.1 billion, which was higher than the $25 billion that analysts had expected, but BHP said it expects net debt to fall in the 2017 financial year.
© Thomson Reuters 2016
(This story has not been edited by NDTV staff and is auto-generated from a syndicated feed.)