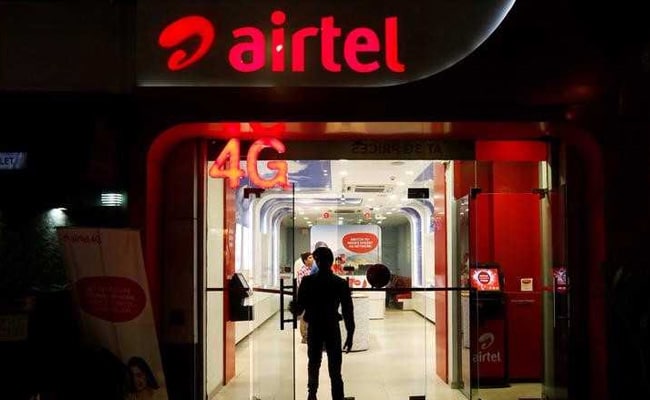 Bharti Airtel, India's second largest wireless telecom services provider, on Thursday reported a net loss of Rs 23,044.9 crore for the quarter ended September 30. The telecom major had reported a net profit Rs 118.8 crore for the corresponding period a year ago. Shares in Bharti Airtel dropped nearly 5 per cent during the session, ahead of the earnings announcement by the private sector telecom company. In a regulatory filing, Bharti Airtel said its revenue from operations came in at Rs 21,131.3 crore in the second quarter of current financial year, up 5 per cent compared with the year-ago period. The company said it added 8 million 4G customers to its network during the quarter.
Here are 10 things to know about Bharti Airtel's financial results:
"Despite being a seasonally weak quarter, we witnessed positive revenue growth in Q2 on the back of various initiatives aimed at providing superior differential services through our Thanks platform," said Gopal Vittal, managing director and CEO, India & South Asia, Bharti Airtel. (Also Read: Bharti Airtel Hopeful Of Balanced Approach On Adjusted Gross Revenue (AGR) Issue)

The telecom company said its consolidated operating profit - or EBITDA (earnings before interest, taxes, depreciation, and amortisation) - rose 40.9 per cent to Rs 8,936 crore in the July-September period.

Consolidated EBITDA margin increased to 42.3 per cent in the quarter as against 31.5 a year ago.

Provisioning of an aggregate Rs 34,260 crore for payment of penalty and dues towards adjusted gross revenue (AGR) to the Department of Telecommunications led to the huge loss for the company, according to the filing.

"The Hon'ble Supreme Court has allowed a period of three months to the affected parties to pay the amounts due to DoT (Department of Telecommunications). This Court Judgement has significant financial implications on the Group," Bharti Airtel said.

Airtel said the provisions have been made without prejudice to its right to contest the telecom department's demands on facts as well as on rights available in law.

Consolidated net loss before exceptional items for the quarter stood at Rs 1,123 crore, Bharti Airtel said.

The liabilities of Rs. 34,260 crore included principal of Rs 8,747 crore, interest of Rs. 15,446 crore and a penalty of Rs. 3,760 crore, Bharti Airtel said.

Bharti Airtel said its average revenue per user (ARPU) - a key metric of profitability for telecom companies - reduced to Rs 128 in the September quarter from Rs 129 in the previous quarter.

Shares in Bharti Airtel ended 1.59 per cent lower at Rs 362.65 apiece on the BSE, underperforming the benchmark Sensex index which gained 0.42 per cent.