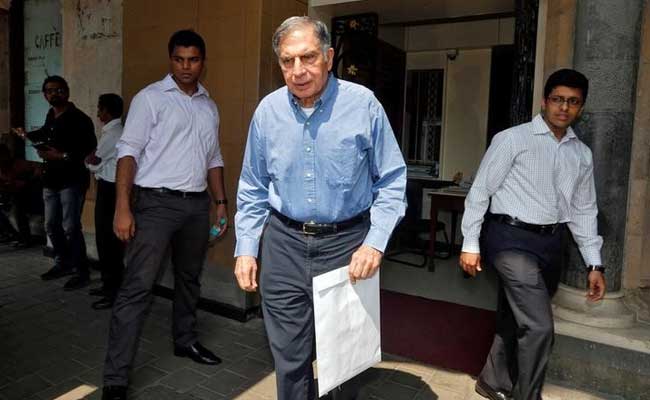 Highlights
A panel has 4 months to find someone to run Indias biggest conglomerate
N Chandrasekaran, Ralf Speth and Noel Tata are among possible candidates
Chandrasekaran and Speth were appointed to the Tata Sons board last week
Wanted: dynamic leader to run $100 billion global corporation. Has extensive experience in software, steel, telecoms and automotive, knowledge of tea and hotels a plus. Must have good internal communication skills.
As India's biggest corporate civil war unfolds, the five-man panel assigned the task of finding a successor for ejected ex-chairman Cyrus Mistry may have the toughest job of all.
Ratan Tata, 78, the boomerang chief of India's biggest conglomerate, has given himself and the other members of the panel four months to find someone to steady the Tata supertanker and focus managers, investors, customers and staff back on myriad businesses the company hews.
The sudden search for a new chairman threw up a list of high-profile names in the local media, from Indra Nooyi, who runs PepsiCo Inc., to former Vodafone Group chief Arun Sarin. People familiar with the developments said the current list includes at least two internal candidates who have the experience running its main units -- Tata Consultancy Services Ltd. Chief Executive Officer N. Chandrasekaran, 53, and Jaguar Land Rover head Ralf Speth, 61. Another possible candidate is Noel Tata, 59, chairman of retail arm Trent Ltd., who is Ratan's half-brother and Mistry's brother-in-law.
"You need somebody with great political skills to maneuver between the group, between the government, between the institutions, between the stakeholders," said Mohan Guruswamy, a former Indian finance ministry official and chairman at the Centre for Policy Alternatives in New Delhi. "I don't think you can go outside, you need knowledge of the group."
Board Appointments
Chandrasekaran and Speth, who were appointed to the Tata Sons board last week, and Noel Tata didn't respond to requests for comment. Tata Sons Ltd., the group's holding company, declined to comment on possible candidates.
Running Mumbai-based Tata Sons Ltd., which controls and invests in the group's major companies, involves overseeing 29 publicly listed companies worth a combined $116 billion in March. Along with dozens of other units, they employ 660,000 people who make cars, blend tea, forge steel, sell insurance, write software, operate phone networks and package salt among much else.
Many of those divisions are in trouble or losing money.
In an e-mail to directors after his dismissal, Mistry said the group may face 1.18 trillion rupees ($18 billion) in writedowns over time because of five unprofitable businesses. He cited Indian Hotels Co., Tata Motors Ltd.'s passenger-vehicle operations, Tata Steel Ltd.'s European business, and the group's power and telecommunications units as "legacy hotspots," according to the e-mail, which was seen by Bloomberg News.
Mistry, 48, chairman for almost four years, was abruptly removed from his role on Oct. 24 for non-performance without the opportunity to defend himself, he wrote in the e-mail.
His dismissal highlighted a key area of concern for any new chairman about the governance of the group.
It will be hard for Tata Sons to attract strong outside talent unless the company can reassure candidates about the question of board independence, said J.N. Gupta, co-founder and managing director of Stakeholder Empowerment Services, a proxy advisory firm. "Business professionals at this level will not come for money, but they come for job satisfaction," he said.
Legal Distractions
Mistry's removal is also likely to raise legal distractions for the new chief, in addition to an ongoing $1.17 billion dispute with telecoms partner NTT Docomo Inc. over a contract. The Docomo dispute was a key bone of contention between Mistry and Ratan Tata, according to people familiar with the business.
Mistry called the agreement, signed while Ratan Tata was chairman, "questionable," and said an exit from the telecom business would cost as much as $5 billion, in addition to the payout to Docomo.
Then there's Corus Group Plc. The unprofitable European steelmaker that Mistry was unable to sell. Or Tata Motors' ill-fated Nano car project, another brainchild of Ratan Tata that suffered delays over building a factory. Even the profitable Tata Consultancy Services IT business, which contributes the lion's share of income, may suffer from Brexit woes.
"The next few months are likely to be messy, with legal battles kicking in," said Deepak Mohoni, founder of market strategy firm Trendwatch India Pvt., and who coined the term "Sensex" for the Mumbai stock exchange index. For investors, "there is no reason yet for a sustained withdrawal from the group's companies unless there are specific triggers -- the U.S. rating agencies, for instance."
Still, the key requirement for the next incumbent of the Chairman's Office in Tata Group's Bombay House headquarters will be the ability to work with Ratan Tata, who heads the family trusts that control Tata Sons.
Mistry said in his e-mail that he became a "lame duck" chairman because of Ratan Tata's interference, including being handed projects as a fait accompli.
'Malicious Allegations'
Tata Sons said in a statement on Oct. 27 Mistry's leaked e-mail "makes unsubstantiated claims and malicious allegations" and that records to disprove them will be disclosed to "appropriate forums, if and when necessary."
"It is a big issue for Tata which in the past was normally known for really good corporate governance and it looks more like a personal issue between Ratan Tata and Cyrus Mistry," said Juergen Maier, a Vienna-based fund manager at Raiffeisen Capital Management, who oversees about $1 billion in assets including Tata Motors and Tata Consultancy shares. "It may have an impact on the hotels business and Tata Steel but not Tata Motors or Tata Consultancy Group."
Until the question of the company's management structure has been sorted out, investors and bondholders are likely to face more questions than answers.
In 2014, Mistry set out his Vision 2025 for the group, an ambitious plan to make Tata one of the world's 25 biggest companies by market value that supplies products to a quarter of the people on the planet. Investors now may be keen to see Ratan Tata's version.
To contact the reporters on this story: Siddharth Philip in Mumbai at sphilip3@bloomberg.net ;P R Sanjai in Mumbai at psanjai@bloomberg.net ;Anurag Kotoky in New Delhi at akotoky@bloomberg.net
To contact the editors responsible for this story: Arijit Ghosh at aghosh@bloomberg.net Adam Majendie, Anand Krishnamoorthy
© 2016 Bloomberg L.P
(This story has not been edited by NDTV staff and is auto-generated from a syndicated feed.)