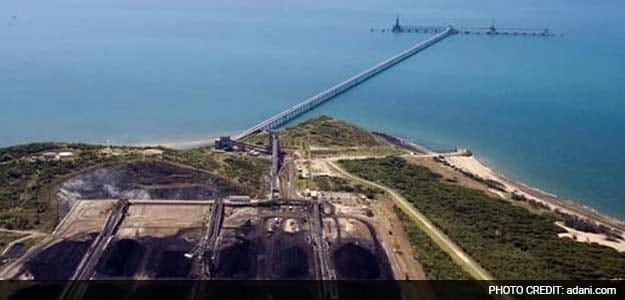 Melbourne
: Adani on Saturday said its $21.7-billion coal mine project in Australia finally received authorisation by traditional land owners, which the Indian mining giant termed was a "clear mandate" that the community supports the venture.
The Indian energy giant said that "W&J (Wangan and Jagalingou) community voted overwhelmingly today at a properly convened, independently-chaired meeting in accordance with established statutory process to deliver intergenerational opportunities to their communities and their children, and grandchildren".
The company said that Saturday's decision was indication that the traditional owners - the Birriah, Juru and Jangga traditional owners - were determined to work with Adani in building sustainable and ongoing partnerships that see the benefits of these projects are shared by all in the broader community.
However, the anti-Adani group of W&J representatives slammed the "sham meeting" and said it was funded by Adani.
They added that they will challenge Adani's "phoney" land use deal in the Federal Court.
Confident that the project in Queensland was on the right track, Adani Mining Australia CEO Jeyakumar Janakaraj said that the company finally received authorisation for an indigenous land use agreement (ILUA) by the traditional owners of Queensland.
"This is an extremely positive development as it has reconfirmed that Adani has been working very closely with W&J (Wangan and Jagalingou) and the entire community supports the project. The level of support which has been shown in the voting by the community owners has given us lot of confidence," Mr Janakraj said, adding that this proved there was a lot of support for energy security in India.
He further said that the meeting was the largest ever authorisation meeting of the W&J, with over 300 attendees, organised by the community itself as per the legal framework.
However, there were still some minority groups present within the community.
"It is a clear mandate and we are very happy that the community has supported the Adani project," Mr Janakaraj said.
"We are taking all the steps in the right direction."
It said that the decision reflected a commitment to work with Adani to ensure that the W&J people benefit from the jobs and economic opportunities that will flow from the construction and operation of the mine at Carmichael - just as communities such as Clermont, Charters Towers, Townsville, Mackay, Rockhampton and Bowen will enjoy the benefits of Adani's mine, rail and port projects from proceeding.
On Wednesday, the W&J representative group said it has filed an interlocutory application in the Federal Court of Australia challenging the leases granted to the controversy-hit venture in Queensland's Galilee Basin. (
Read more
)
The company said it has "worked positively and constructively with elected leaders within the W&J over several years to ensure that as the company's mine at Carmichael not only proceeds, but proceeds with the benefits of the mine being realised by traditional owners at every stage of the project".
The Queensland Government's recent granting of mining leases for the mine at Carmichael was an "important milestone in the company's plan to build a long-term future with our state", it said.
Saturday's vote is an equally important milestone in Adani's plan to build a long-term future with each and every community spanning its projects, and ensuring they realise the benefits that flow from these projects proceeding, it said.
Earlier, a W&J group announced that they had rejected an ILUA with Adani to build the huge Carmichael coalmine in Queensland's Galilee Basin.
A spokesperson and traditional owner Adrian Burragubba of the W&J group said: "The new Queensland Labor government has an opportunity to step up now, and do the right thing. We call on Premier Annastacia Palaszczuk and Minister for Mines Anthony Lynham to rule out compulsorily acquiring our land. They must reject Adani's mining lease application for Carmichael."
"If they approve Carmichael, they will be responsible for the death of our land, and our connection to it going back to time immemorial... The W&J people have never given our consent to Adani's massive mine and never will. It will destroy our ancestral lands and waters, our totemic animals and plants and our dreaming. We are putting the government on notice that we will do whatever it takes to stop it."
Meanwhile, the anti-Adani group of Wangan and Jagalingou (W&J) representatives slammed the meeting and said it was funded by Adani, "which purports to be a gathering of the W&J people but was convened by the company to push a land use deal for its Carmichael mega-mine".
Adrian Burragubba, senior W&J traditional owner, native title applicant and spokesperson for the W&J Family Council, said: "This was a sham meeting which has engineered a sham outcome. We will challenge Adani's phoney land use deal in the Federal Court and properly discredit it."
"Not just once but three times W&J traditional owners have voted to reject Adani taking our lands and digging the Carmichael mine in our country. But right from the start, foreign billionaire Adani's company has been intent on getting what it wants, and used its power and money to divide our community."
"Just last month the W&J claim group met of our own accord and said 'no' to Adani. We made it clear that Saturday's meeting is not a legitimate meeting of the claim group and the resolution to approve Adani's deal is not legitimate either," Mr Burragubba said.