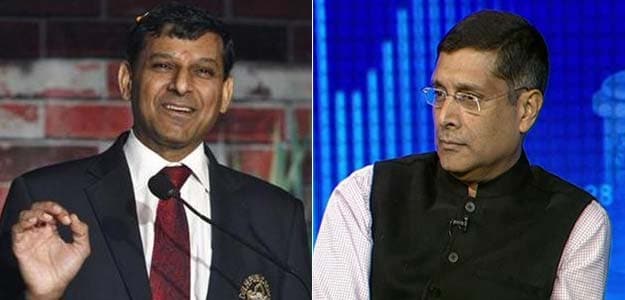 Arvind Subramanian, chief economic adviser at India's finance ministry, is the most likely to succeed Raghuram Rajan as central bank governor among the five candidates the government is said to be considering, a Bloomberg News survey showed.

Seven of 13 economists picked the Oxford-educated Subramanian out of a list unveiled on Monday to reporters in New Delhi by a finance ministry official. None of the other candidates received more than two votes.

"Arvind Subramanian stands on the dovish side of policy spectrum," Nomura Holdings Inc. economists Sonal Varma and Neha Saraf wrote in a note circulated on Tuesday. "He is less of a believer in fiscal orthodoxy."

Subramanian would signal a shift from Rajan, who engineered a move to a consumer-price inflation target and has warned against cutting interest rates too quickly. He announced on Saturday he would leave the Reserve Bank of India when his term ends in September after an ally of Prime Minister Narendra Modi attacked him for keeping interest rates too high.

Also on the list of possible successors is Economic Affairs Secretary Shaktikanta Das and a trio of former or serving deputy central bank governors: Rakesh Mohan, Subir Gokarn and Urjit Patel. The finance ministry official who revealed the information asked not to be identified, citing rules for speaking with the media.

Besides those five, Nomura also named Arvind Panagariya, who heads a government economic advisory body, and Arundhati Bhattacharya, chairman of State Bank of India, as potential successors.

In his current job, Subramanian gives input on the economy and authors the Economic Survey, an annual report card of the finance ministry. The latest version penned by him argued for monetary policy easing to boost economic growth, saying oil prices will keep costs low even though they'll be moderately higher than last year.

Like Rajan, Subramanian has spent several years overseas, including stints at the International Monetary Fund and more recently as a senior fellow with Peterson Institute of International Economics. He has also taught at Harvard University's Kennedy School of Government and Johns Hopkins' School for Advanced International Studies. And both have served as chief economic adviser.


But that's where the similarities end.
Apart from differing with Rajan over the need to cut interest rates to boost growth, Subramanian has also argued against the central bank's singular focus on consumer prices while setting monetary policy. Last year, he advised the Reserve Bank of India to be flexible and consider the fall in wholesale prices while reviewing interest rates.
In a television debate last November, the two sparred about the inflation indices and the central bank's focus on consumer prices. Rajan dismissed the idea of using wholesale prices to guide interest rates, arguing that the basket reflected international costs and not those facing consumers in India.
(c) 2016, Bloomberg
(
Except for the headline, this story has not been edited by NDTV staff and is published from a syndicated feed.
)