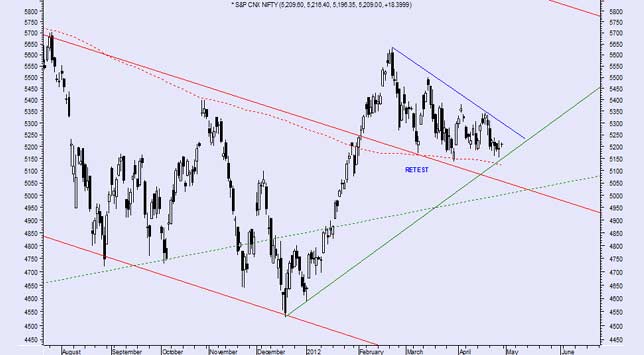 Highlights
With expectations and participation being very low, expect markets to stay range-bound with 5100/5130 being a strong support, says Bhasin.
Mumbai:
The Dow Jones Industrial Average stock index is due for an overhaul, and new-tech giants like Apple Inc and Google have good arguments for joining the elite 30 companies at the expense of old-industry stalwarts like Alcoa Inc, Barron's said on Sunday.
The business weekly said the Dow has no timetable, but a new company or two could be added in the next year.
The three most likely stocks to be replaced in the index are aluminum maker Alcoa, Bank of America and Hewlett-Packard, Barron's said in its latest edition.
"The guardians of the Dow need to ensure that this benchmark, created in the 19th century, stays relevant for a 21st century market," it wrote.
Yet admitting Apple, the world's most valuable company with a market capitalization of roughly $563 billion, or Google, would be difficult, Barron's said, because of the way the index is calculated. Unlike the Standard & Poor's 500 and other major indexes, the Dow weighs its 30 components based on the absolute price of their shares.
Apple, whose shares on Friday closed at $603, would overwhelm the index with a 26 per cent weighting. That is double the influence of current Dow component IBM, whose $207 stock price gives it a 12 per cent weighting in the index, Barron's said.
Barron's said the heavy weighting that Apple would command at its current share price could prove a barrier to becoming a Dow component. To guarantee a Dow spot, Barron's said, Apple would have to split its shares by five-for-one or 10-to-one. But Barron's noted that Apple has not split its stock since 2005.
The lack of splits poses difficulties for the Dow because high-priced components like IBM exercise a growing impact while low-priced members like Alcoa, Bank of America and General Electric get marginalized.
Copyright @Thomson Reuters 2012