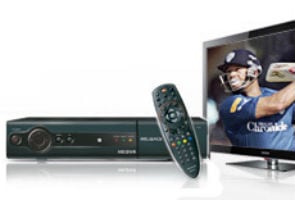 Reliance Communications today said it will offer over 250 channels in high definition to the subscribers of Reliance Digital TV's direct-to-home service.
"Every single channel in our bouquet from today onwards will be offered in high definition (HD). We will convert the feed received from all channels including regional into high quality, ten times more in pixel size than the original feed," Reliance Digital TV Chief Executive Officer Sanjay Behl told PTI.
He said the new HD set top box will be available to consumers at Rs 2,590 and HD box with a digital video recorder (DVR) is priced at Rs 3,990.
Currently the company sells a standard definition (SD) box for Rs 1,200. "Our existing 4 million customers will have an option to upgrade to HD by paying Rs 2,000," he said. In terms of content, there are not more than 10 channels including Discovery, Nat Geo, Movies Now and four Star Network channels currently fully HD in India, he said.
"Our attempt is to provide high quality feed even for those channels which are not HD so far in terms of content," Behl added. To support the new launch, the company will kick-off a multi-media marketing and promotion campaign which will include advertising during the ongoing IPL.
"With the new launch we expect a multi-fold growth in the number of subscribers," Behl said. He said even the entire DTH industry with a total subscriber base of over 30 million is also set to see consumer shift from SD to HD. "Currently less than one per cent of the total DTH subscribers are using HD set top boxes. However, in the next six months HD is likely to be around 5-10 per cent of the total market,' he added.
Earlier this year, leading DTH player Dish TV had announced launch of 30 HD channels for consumers at an additional monthly cost compared to SD channels.
Similarly Tata Sky currently offers a HD Gold Pack to its seven million subscribers which has five HD channels at Rs 50 per month. Airtel digital TV on the other hand currently offers three full HD channel to its subscribers. Reliance Digital TV, however, has said that it will put additional charges per month for HD feed.