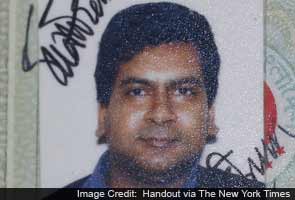 New Delhi:
Like so many busy New Yorkers in a hurry to get where they have to go, Sunando Sen peered out over the tracks on an elevated subway stop in Queens on Thursday evening, anxiously awaiting the next train.
What he did not see, the authorities said, was a woman approaching from behind who had been sitting on a bench and who had been heard mumbling to herself. Before Sen could react, the woman pushed him into the path of a No. 7 train roaring into the 40th Street-Lowery Street subway station in Sunnyside. Sen was crushed under the train.
As onlookers screamed, the woman fled the station down two flights of stairs. Her image was captured by a security camera as she ran down Queens Boulevard, casting a wary glance over her shoulder. She remained at large Friday.
The seemingly unprovoked attack, the second time this month that a man was thrown to his death on the subway tracks, stirred some of the deepest fears of New Yorkers.
"When a murder happens in New York, it can often be dismissed as being in someone else's backyard," said Gene Russianoff, staff lawyer for the Straphangers Campaign, a rider advocacy group. "The subway is everyone's backyard."
The police identified the victim as Sen of Queens, a 46-year-old immigrant who had been raised in India and who, after years of toil, had finally saved enough money to open a small copying business this year on the Upper West Side of Manhattan.
Ar Suman, one of four roommates who shared a small first-floor apartment with Sen in Elmhurst, said he was driving a client upstate when another roommate called and told him what had happened. Hoping the information was wrong, Suman raced back to the city, only to find that there was nothing he could do - Sen was dead.
"He was a very educated person and quite nice," Suman said. "It is unbelievable. He never had a problem with anyone."
Suman said Sen was proud when he had saved enough money to open the business, New Amsterdam Copy.
Since the shop opened, he had rarely taken a day off, Suman said.
"I asked him why do you work seven days a week?" Suman said. "He told me, 'I cannot hire someone because business is not good."'
Police Commissioner Raymond W. Kelly said Friday that according to witnesses' accounts, there was no contact on the platform between the attacker and the victim immediately before the fatal shove. He said Sen was looking out over the tracks when his attacker approached him.
The attack occurred so quickly, with the train already barreling into the station, that the man had little time to react and bystanders had no time to try to help, said Paul J. Browne, the Police Department's chief spokesman.
Sen was hit by the first car and his body was pinned under the second car before the 11-car train came to a stop.
Investigators released a grainy black-and-white video overnight showing a person they identified as the attacker fleeing the station and running along Queens Boulevard. She was described by the police as Hispanic, 5 feet 5 inches tall, in her early 20s and heavyset. She was reported to be wearing a blue, white and gray ski jacket and Nike sneakers - gray on top, red on bottom.
The subway station was closed overnight as officers from the Emergency Services Unit used specialized inflatable bags to lift the train and recover the victim's remains. The No. 7 line had resumed normal service by the morning rush.
Mayor Michael R. Bloomberg said such attacks were exceedingly rare, but that statistics did not diminish the tragedy for the families of the victims.
"You can say it's only two out of the 3 or 4 million people who ride the subway every day, but two is two too many," he told reporters.
"I don't know that there is a way to prevent things," Bloomberg said. "There is always going to be somebody, a deranged person."
He added: "We do live in a world where our subway platforms are open, and that's not going to change."
In the other subway-pushing case this month, Ki-Suck Han, 58, who also lived in Elmhurst, died under the Q train at the 49th Street and Seventh Avenue station on Dec. 3. Naeem Davis, 30, has been charged with second-degree murder in that case. A lawyer for Davis said his client had been trying to push Han away after an altercation.
For the millions of commuters who travel on New York City's subway trains every day, the thought of being thrown onto the tracks is a fleeting fear at most. But each time there is an attack, people tend to stand a little farther from the tracks, at least for a while. That was especially true after the attack on Han, when The New York Post published a front-page photo of him on the tracks moments before his death.
In 1999, two attacks in which mentally ill people pushed unsuspecting victims into the path of oncoming subway trains, one fatally, led to legislation giving families the right to demand court-ordered outpatient psychiatric treatment for their relatives. Known as Kendra's Law, it permits state judges to order closely monitored outpatient treatment for seriously mentally ill people who have records of failing to take medication, and who have frequently been hospitalized or jailed or have exhibited violent behavior.
The law was named for Kendra Webdale, 32, who was pushed to her death by a young man, Andrew Goldstein, who had stopped taking medication he had been prescribed for schizophrenia.
Sen's roommates could not understand what might have led to the fatal encounter Thursday.
Suman said that as far as he knew, Sen did little more than work and come home. Both his parents were dead, they said, and he was not married and had no children.
Sen suffered a heart attack about nine months ago, Suman said, but did not slow down. The night stand in Sen's bedroom had many bottles of prescription medicine. Across the room on his desk was a pile of medical bills.
His roommates said he liked watching funny clips on YouTube to unwind, enjoyed a cup of tea and would relax listening to classical Indian music.
"This guy is so quiet, so gentle, so nice," said M.D. Khan, a taxi driver who also lives in the apartment. "It's so broken, my heart."
(Michael M. Grynbaum and Wendy Ruderman contributed reporting.)
© 2012, The New York Times News Service