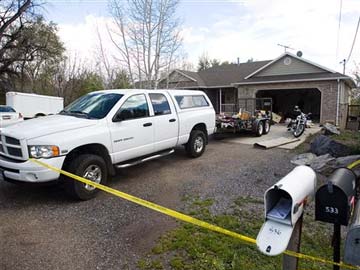 Pleasant Grove, Utah:
The infants were found in cardboard boxes, each one rolled up in a shirt or towel and tucked into a plastic bag. One had been stillborn, their mother, Megan Huntsman, told the police. The other six, she said, she had strangled or smothered immediately after giving birth, and interred them in the garage of her family's pink-brick home here.
For more than a decade, Huntsman's pregnancies and the short lives of her seven babies apparently went unnoticed by relatives and neighbors. Then, this weekend, as her estranged husband and other relatives were cleaning out the garage, they found a tiny body in a plastic bag, uncovering a grisly scene that has left veteran police investigators shaken and exposing a story that has stunned families across this city.
"I just can't imagine how something like this happens," Police Chief Michael Smith said. "I don't think there's any motive that could ever be given that allows you to wrap your mind around it in any way."
On Monday, as a Utah district judge set a $6 million bail for Huntsman - $1 million for every count of murder she is expected to face - investigators sought to unravel questions about how a mother of three who baby-sat for neighbors' children could have concealed such a terrible secret for so long, and how nobody else could have noticed.
"There are still things we're still puzzled about," Smith said.
In an affidavit released Monday, a Pleasant Grove detective reported that Huntsman, 39, said she had given birth to the seven children at home from 1996 through 2006, and that all but one had been born alive. After waiving her right against self-incrimination, the affidavit said, she admitted to killing six of those children.
But neighbors said that, in addition to her two adult daughters, Huntsman also has an adolescent daughter who was born during that period, raising further questions about the timing of the deaths, and why one child may have lived while seven others died. The police have said DNA tests were being conducted on the dead babies to determine their biological parents.
The police declined to answer any questions about Huntsman's background or her mental health history, and the affidavit makes no mention of a motive.
Cases involving mothers who kill their own children, such as Susan Smith or Andrea Yates, often draw intense shock and publicity, but psychiatrists say such murders are rare and poorly documented by researchers and criminologists. They are crimes often committed by mothers who have severe postpartum depression or psychosis, said Dr. Kenneth Robbins, a clinical professor of psychiatry at the University of Wisconsin School of Medicine.
"This is not generally a thoughtful, rational decision that somebody makes," he said. "It's generally related to some kind of mental health problem, and there is some ambivalence. This is a cousin of suicide. They're killing a part of themselves."
Utah was one of the first states to pass a "safe haven" law allowing mothers to anonymously drop off unwanted newborns at a hospital without fear of being investigated or prosecuted. Such laws, which seek to prevent babies from being abandoned without any care, have been approved by every state in some form.
Here in Pleasant Grove, people are left with little else but questions. Neighbors who knew the family for years called Huntsman a shy but kind neighbor who would occasionally watch their children and grandchildren. Her weight seemed to fluctuate, but they said she often wore baggy clothes.
SanDee Wall, a real estate agent and mother of three who has lived next door for 14 years, said she occasionally wondered whether Huntsman was pregnant, but thought little of it.
"I had no suspicion of anything," she said.
Neighbors said Huntsman, her now-estranged husband, Darren West, and their two oldest daughters had moved into the home in Pleasant Grove more than 15 years ago, and some of the neighbors offered fond recollections of play dates and backyard barbecues. But those days did not last.
In December 2005, West pleaded guilty to federal charges of possessing chemicals used to manufacture methamphetamine, although he said he was an intermediary and did not make the drug or even know how to produce it. He was recently released from prison and was in a residential re-entry management program in Salt Lake City, according to a federal prisoner database.
Huntsman and her children stayed in the home, which is owned by West's family, and she worked for a time at a supermarket bakery, said Aaron Hawker, a longtime neighbor who said he had corresponded with West during his incarceration.
About two years ago, Huntsman left the home and moved about 35 miles north, to West Valley City, on the outskirts of Salt Lake City. Her daughters stayed behind, living with a paternal aunt and uncle who live in a lower-level apartment in the house.
Neighbors and police officials said West had been hoping to move back into the Pleasant Grove home with his family, and this weekend had gone over to help clear away a garage full of boxes.
"He's paid his dues and just wants to start a new life," said Sharon Chipman, a neighbor whose grandson grew up playing with Huntsman's adolescent daughter. "And that's what he was doing when this hit."
© 2014, The New York Times News Service