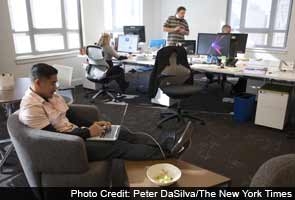 San Francisco:
Twitter, which began as a side project in a small but failing startup seven years ago and grew into one of the world's largest platforms for public conversation, is about to take its biggest step yet into maturity: selling stock to the public.
The company announced Thursday - in one of the 140-character messages that are the backbone of the service - that it had filed paperwork with regulators to eventually sell shares in an initial public offering. However, it earlier filed the documents confidentially under a special provision of securities law that allows a company with less than $1 billion in annual revenue to keep its financial data secret until it begins actively marketing its stock to investors.
Twitter's caution follows the disastrous IPO of its archrival, Facebook. In May 2012, Facebook sold $16 billion in stock to investors, only to see its share price sliced in half in the ensuing months as shareholders worried that the company could not make money from its 1 billion users.
But investors have recently become enamored of all things social and mobile, and have become particularly enchanted by the fast growth of mobile advertising revenue at social networking companies.
Facebook's shares hit a record high this week and ended Thursday at $44.75, well above the $38 IPO price. LinkedIn, the business-oriented social network, is trading at nosebleed levels, even after selling another $1 billion in stock to investors in a secondary offering.
This is an opportune time for Twitter to join their ranks. Its service is considered well suited for mobile phones, with its core tweets resembling simple text messages, and it has been rapidly growing both in global users and in its advertising offerings. The microblogging service already has well more than 200 million active users and is fast approaching 300 million, according to memos shared with staff members.
By its own estimates, Twitter was profitable in December of last year and generated more than $100 million in revenue in the final quarter of 2012, according to numbers in an email shared among staff. These numbers could not be independently verified.
But it has not been consistently profitable in 2013 because it has reinvested money into acquisitions, said people familiar with Twitter's financials who declined to be named because they are not authorized to speak publicly about them.
It is expected to post around $600 million in revenue this year and close to $1 billion next year, according to internal projections and estimates by the research firm eMarketer. While it is unclear how much money Twitter will seek in its offering, the amount is certain to be billions of dollars.
The company needs to build a war chest to continue funding its global expansion, including acquisitions like its $300 million purchase Monday of MoPub, an advertising technology company. And it needs cash to take on the much larger and better-funded Facebook as they both vie to create new products that will help advertisers reach consumers on the go.
Employees and the company's venture capital shareholders are also eager to have a way to easily sell some of their shares and cash out some of the money they have tied in the company's shares.
Since Twitter received its first venture investment in June 2007, the company has taken more than $1 billion in venture funding from firms including Union Square Ventures, Bezos Expeditions, Spark Capital and Institutional Venture Partners.
Twitter notified its employees of the public offering during a global meeting on Thursday, catching most of them by surprise, according to several employees who were in attendance at the meeting.
Although Twitter made the news public today, the company first filed for its public offering with the Securities and Exchange Commission earlier this summer under the Jumpstart Our Business Startups, or JOBS, Act, according to several people familiar with the company who declined to be named because of the confidentiality of the situation.
It has used the confidentiality afforded by the act to tweak numbers and estimates and consult with the SEC staff, in part to avoid the calamities that befell Facebook during its public offering, these people said.
While the company hopes to go public by the end of the year, the actual public offering could take place in early 2014, according to people who were briefed on the matter but could not be named because they are not allowed to speak publicly for the company.
Twitter first started as a side project from Odeo, a podcasting company started by Noah Glass and Evan Williams, in early 2006. The original concept of the company was an amalgamation of ideas from Glass, Williams and two employees of Odeo, Jack Dorsey and Biz Stone, who wanted to build a service that would allow people to connect with friends and share similar musical tastes.
Today all of the founders have since left the daily operations of the company, and Dick Costolo, is currently the company's chief executive. Costolo first joined Twitter as the company's first chief operating officer, but took over as the chief executive in October 2010 after Williams stepped down from daily operations. Williams and Dorsey are still on the company's seven-person board.
Trading in Twitter shares has gone on for years, even though the company is not yet public, part of the robust secondary market for stock in technology companies. Firsthand Tech Value Fund has bought more than 1 million Twitter shares on the secondary market in recent years.
Firsthand acquired them at an average cost of $17 per share, which portfolio manager Landis said values Twitter at around $9 billion. It most recently bought shares earlier this year for about $16.50 per share.
However, in recent months Landis said that Twitter had put restrictions on shareholders, prohibiting them from selling shares on the secondary market.
"We'd gotten indications that the market was getting tighter because there were fewer sellers," he said, adding that the restrictions were a sign Twitter was preparing to go public.
Longtime investors welcomed the news.
"It's a great time for the company to be going public," said George Zachary, a general partner at Charles River Ventures, which invested $250,000 for 1 percent of Twitter its first funding round.
"Their IPO is well timed. The recent rise in Facebook stock price is probably going to bode well."
© 2013, The New York Times News Service