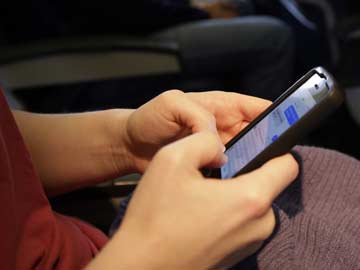 Miami:
An argument over texting at the movies ended in a cellphone user's death, when a retired police officer in the audience shot him at a theater near Tampa, Fla., on Monday afternoon, the authorities said.
Two couples were among patrons at a matinee of "Lone Survivor" at the Grove 16 movie theater in Wesley Chapel, about 20 miles northeast of Tampa, when one of the men, a retired Tampa police officer, got angry because the man in front of him was using his phone during the previews, despite being asked to stop several times, said Douglas Tobin, a Pasco County sheriff's office spokesman.
A witness told local television stations that the offended man stormed out to get a manager, but returned without one. The man using the phone explained to the irritated man that he was simply texting his 3-year-old daughter, the witness, Charles Cummings, told Tampa's FOX 13 television.
"Three seconds, four seconds later, the argument starts again," Cummings told reporters outside the theater. "Their voices start going up; there seems to be almost a confrontation. Somebody throws popcorn, I'm not sure who threw the popcorn, and, bang, he was shot."
A nurse in the audience tried performing CPR on the victim while an off-duty sheriff's deputy from another county detained the gunman.
The victim was identified as Chad Oulson, 43, of Land O' Lakes, Fla. His wife, Nicole, had placed her hand over her husband just as he was shot, and was wounded, Tobin said.
The gunman, Curtis Reeves, 71, was charged with second-degree murder.
Reeves retired as a captain in 1993 from the Tampa Police Department.
The theater, part of the Cobb Theaters chain, was evacuated and closed.
The killing underscored the increased debate about when to use smartphones in public. In October, the singer Madonna was spotted texting during the Lincoln Center premiere of "12 Years a Slave." That led Tim League, chief executive of Alamo Drafthouse, a Texas-based chain of boutique cinemas, to post on Twitter that she was banned from watching movies at his theaters.
Cinema executives acknowledged during a trade conference last year that they debated whether to accommodate younger viewers by allowing text messages during some movies. It was widely reported that the AMC chain had agreed to set aside the last rows for patrons to text without bothering others, but the company quickly denied considering such a move.
"Despite the tragic altercation in a Florida movie theater, which as reported is an isolated incident, movie theaters are a safe and enjoyable entertainment destination for millions of people," said Patrick Corcoran, a spokesman for the National Association of Theater Owners. "We encourage our patrons to remember that they are sharing a common wish to be entertained and to treat their fellow moviegoers with courtesy and respect."
© 2014, The New York Times News Service