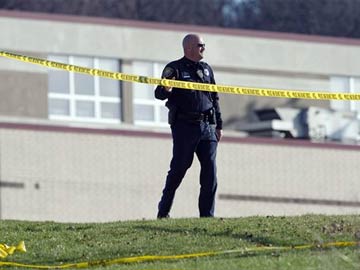 A 16-year-old student at a high school east of Pittsburgh walked from classroom to classroom Wednesday randomly stabbing and slashing 19 students as well as a security guard before being tackled and subdued by a principal and a police officer, authorities said.
At least three students from Franklin Regional High School in Murrysville, Pa., remained hospitalized in critical condition with wounds to the abdomen that penetrated internal organs, officials said. All of the wounded are expected to survive.
It was not immediately known what might have prompted the student, a sophomore at the school about 20 miles east of Pittsburgh, to go on the rampage.
The student, whose name has not yet been released, was armed with two knives as he stalked classmates, who ran in all directions and hid inside classrooms and the cafeteria as they sought safety, authorities said.
The attack occurred just as classes were beginning for the day and students were settling into their seats shortly after 7 a.m. The 16-year-old burst into a classroom and began stabbing and slashing students, said Dan Stevens, a spokesman for the Westmoreland County Department of Public Safety. Then he chased and stabbed other students in the hallways.
The chief of the Murrysville Police Department, Thomas Seefeld, said, "He was flashing two knives around. We don't know what led up to this."
The student was eventually confronted by a school security guard, but the guard was unable to subdue him and was stabbed in the stomach, police said. The student then searched for more victims, they said.
Many of the injured students were cut on the arm or leg, but those more seriously wounded were stabbed in the lower abdomen, said Dr. Mark Rubino, chief medical officer at Forbes Regional Hospital, where two students were in critical condition.
"These were deep penetrating injuries," Rubino said, referring to the critically wounded students.
At some point during the rampage, a student pulled a fire alarm. People who had been unaware of the attack then fled, which might have saved more people from being harmed, police said.
"It could have been a lot worse," Seefeld said.
The attack went on for at least 15 minutes before the student was confronted by a principal and then by a Murrysville police officer who works at the high school, Seefeld said. The boy was tackled and handcuffed. After he was arrested, he was taken to a hospital for treatment of cuts on his hands, officials said.
Seefeld said the authorities were investigating whether the boy might have made a threatening phone call to another student on the evening before the attack.
Gennaro Piraino, superintendent of Franklin Regional School District, said the high school would be closed for several days and that counseling would be made available.
© 2014, The New York Times News Service