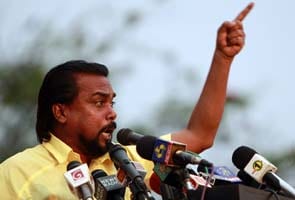 Colombo:
A government minister urged Sri Lankans on Tuesday to boycott American products because US support of a United Nation (UN) human rights resolution would encourage separatism in the island nation.
A resolution calling on Sri Lanka to investigate alleged abuses during the country's civil war is expected to be voted on next week by the UN Human Rights Council in Geneva.
Government troops defeated the Tamil Tiger rebels to end a quarter-century civil war in 2009, and Housing Minister Wimal Weerawansa told a protest meeting that the resolution amounts to calling for the revival of the rebel group.
Mr Weerawansa accused the Tamil Tiger leader in exile Visvanathan Rudrakumaran, who now lives in the US, of having divided loyalties between America and the Tamils as he campaigned for an investigation into the alleged abuses during the country's civil war.
Sri Lanka's government has organized a series of protests against the resolution.
It believes the resolution is interference and defends its own investigation, while human rights activists say Sri Lanka's efforts have fallen short of international standards.
The resolution calls on Sri Lanka to investigate allegations of human rights abuses by both the government troops and Tamil Tiger rebels in the final months of the war.
A UN panel's investigation found tens of thousands of people may have been killed, largely through shell fire by the government troops.
Mr Weerawansa said the resolution would be destructive to the post-war atmosphere.
He called on people to boycott American brands such as Coca-Cola, Pepsi, KFC, McDonalds and Google's email service Gmail.
"Let's create a country that boycotts American brands and then show the US that we are prepared to fight with them if they want to fight with us," he said in Colombo.
The US is canvassing support for the resolution and is expected to introduce it.