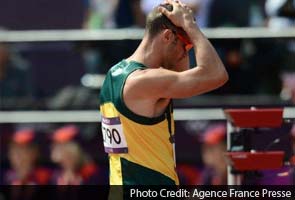 Johannesburg:
Paralympic champion Oscar Pistorius, who made sporting history by becoming the first double amputee sprinter to compete in the Olympics, was charged with murder Thursday after a woman was fatally shot in his home in Pretoria, according to South African police officials.
Confirming the charges, police officials said they plan to oppose the international track star's expected application for bail at a court hearing scheduled for later Thursday.
South African and other media quoted associates of the victim as identifying her as Reeva Steenkamp, a model whose Twitter page described her as a "cover girl" and a law graduate. Steenkamp and Pistorius had frequently been seen together at society events and South African media identified her as his girlfriend.
Pistorius, 26, won two gold medals and a silver at last year's Paralympic Games in London. In the 2012 Olympics, he reached the 400-meter semifinal and competed in the 4x400 meter relay. Known by the nickname Blade Runner, he races using carbon fiber prosthetic blades.
Early Thursday morning, the police responded to a report of gunshots in the upscale housing complex where Pistorius lives, said Col. Katlego Mogale, a police spokeswoman. When they arrived, they found paramedics treating a 30-year-old woman for gunshot wounds. The woman was pronounced dead and a 26-year-old man was taken into custody, Mogale said.
Mogale would not comment on a possible motive for the shooting.
"A case of murder has been opened," she said before the police said they had formally charged Pistorius with murder.
Reports from local media said that Pistorius told the police that the shooting was an accident and that he had mistaken the victim for an intruder.
But speaking to reporters in Pretoria, another police spokeswoman, Brig. Denise Beukes said those reports had taken her by surprise.
She also said that the police had responded previously to complaints of a "domestic nature" at the runner's home but declined to give further details.
South Africa has one of the world's highest rates of violent crime, and break-ins by armed robbers are relatively common. Legal handgun ownership is also common, with some restrictions.
Adele Kirsten of Gun-Free SA, an anti-gun violence organization, said that whatever the motive, the shooting was an avoidable tragedy.
"The idea that you have a gun to protect your family against intruders, the data doesn't bear that out," Kirsten said. "What it tells us is that having a gun in your home puts you and your family at risk of being shot."
In the Paralympics last September, Pistorius won individual gold, when he successfully defended his Paralympic 400 meter title. He had lost his 100- and 200-meter titles, but was part of the gold medal-winning 4x100 meter relay team. He came second in the 200 meter race.
After that contest, Pistorius damaged his reputation among his followers by criticizing the winner, Alan Oliveira of Brazil, raising questions about the length of the winner's blades. Pistorius later apologized and praised the gold medalist in the 100 meter race, Jonnie Peacock of Britain.
Pistorius, who was born without fibulas, had both legs amputated below the knee before his first birthday and he battled for many years to compete against able-bodied athletes. In 2008, he qualified for the Beijing Games but was ruled ineligible by track's world governing body because his blades were deemed to give him a competitive advantage.
South African journalists said Pistorius lived in a walled complex near the South African capital, Pretoria. A reporter outside the compound Thursday said it was protected by high walls and razor wire.
In a statement, the International Paralympic Committee said it would not comment "until the official police process has concluded" but it offered "its deepest sympathy and condolences to all families involved in this case."
Sarit Tomlinson, Steenkamp's publicist, told Sky News that the couple had a ''healthy, fabulous relationship.''
On her Twitter account, Steenkamp sent a message on Wednesday alluding to Valentine's Day on Feb. 14 and saying: "What do you have up your sleeve for your love tomorrow???"
She also mentioned a South African reality TV show and described herself as "SA Model, Cover Girl, Tropika Island of Treasure Celeb Contestant, Law Graduate, Child of God."
Pistorius' father, Henke Pistorius, told the South African Broadcasting Corp.: "I don't know nothing. It will be extremely obnoxious and rude to speculate. I don't know the facts. If anyone makes a statement, it will be Oscar. He's sad at the moment."
© 2013, The New York Times News Service