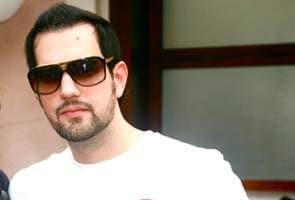 Islamabad:
Gunmen abducted the son of a slain former governor from the eastern city of Lahore on Friday, relatives and police officials said.
Relatives confirmed the kidnapping of Shahbaz Ali Taseer, the son of Salman Taseer, the former governor of Punjab Province, who was assassinated in January in Islamabad by one of his security guards. The assassin, Malik Mumtaz Qadri, later said he killed Mr. Taseer because of his opposition to Pakistan's blasphemy laws.
There was no immediate claim of responsibility and it was not clear whether the abduction was related to the Taseer family's stand on the blasphemy laws or had financial motives. The Taseers have expressed apprehension about their safety in the past and have said that they continue to receive threats from Taliban and Islamic militants.
"We cannot talk to the press right now but whatever you have heard is true," said Sheherbano Taseer, a sister of Shahbaz Ali Taseer, before abruptly hanging up the phone.
Before his assassination, Governor Taseer had emerged as one of the country's most vociferous opponents of the blasphemy laws. Critics claim the laws, which call for a mandatory death sentence for anyone convicted of insulting Islam, have been misused to target minority Pakistanis
The elder Mr. Taseer's stand on the contentious issue provoked hard-line Islamists in the country and death threats were issued against him.
Friday's kidnapping is the second high-profile abduction in Lahore this month. On August 13, an American development expert, Warren Weinstein, was abducted from his residence. Mr. Weinstein is still missing and there has been no demand for ransom or claim of responsibility, police officials say.
Shahbaz Ali Taseer, who is thought to be 27 or 28 years old, was serving as a director of First Capital Securities Corporation Limited. On Friday, he was traveling in his Mercedes-Benz without any security escort before being stopped by a group of armed gunmen at a busy traffic intersection.
The news of the abduction met with immediate condemnation from government officials, friends and supporters of the Taseer family. Prime Minister Yusuf Raza Gilani ordered police officials to ensure an early recovery of Shahbaz Ali Taseer.
Rana Sanaullah, the Punjab law minister, said Mr. Taseer had been provided a security detail but had chosen to leave it behind at the residence before heading to the office on Friday.
"The federal and provincial governments must ensure that the younger Taseer is recovered speedily and his abductors are held accountable," Human Rights Watch, a New York-based advocacy group, said in a statement.
"This family has suffered too much already and given the security threats directed towards them in the aftermath of Governor Taseer's death, this kidnapping underscores the failing writ of the state and its inability to provide security even to those known to be at high risk."