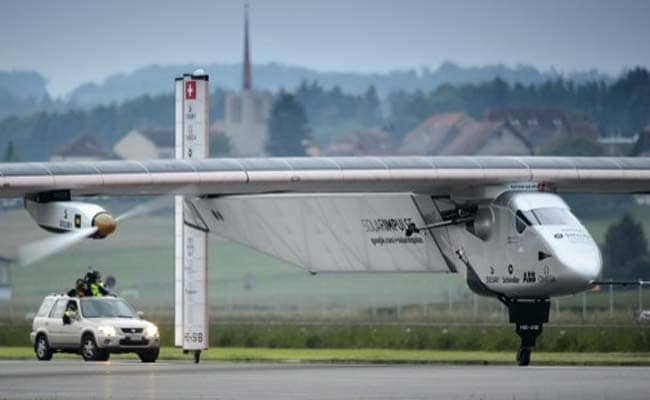 London:
A revolutionary solar-powered plane, that will try to fly around the world next year, has successfully made its inaugural test flight in Switzerland.
The Solar Impulse 2 vehicle lifted off from Payerne aerodrome in Switzerland today and returned two hours later.
The single-seater aircraft, with which Swiss pioneers Bertrand Piccard and Andre Borschberg are attempting to carry out the first solar-powered flight around the world in 2015, is the first able to fly day and night without fuel or polluting emissions.
For 2 hours and 17 minutes, professional test pilot Marcus Scherdel was able to trial the aircraft's performance in the skies.
The initial results are in line with calculations and simulations. There will be several other flights taking place in the coming months in order for this experim ental machine to attain certification.
"This inaugural flight is an important stage - a step closer towards the round-the-world flight. It is also a huge emotional step for the entire team and all our partners who have worked on the aircraft," said Borschberg, Solar Impulse Co-founder, CEO and pilot.
"Si2 incorporates a vast amount of new technology to render it more efficient, reliable and in particular better adapted to long haul flights. It is the first aircraft which will have almost unlimited endurance," said Borschberg.
The aircraft made of carbon fibre has a 72 meter wingspan, larger than that of the Boeing 747-8I, for a weight of just 2,300 Kg, equivalent to that of a car.
The 17,000 solar cells built into the wing supply four electric motors with renewable energy.
During the day, the solar cells recharge lithium batteries weighing 633 Kg which allow the aircraft to fly at night and therefore to have virtually unlimited autonomy.