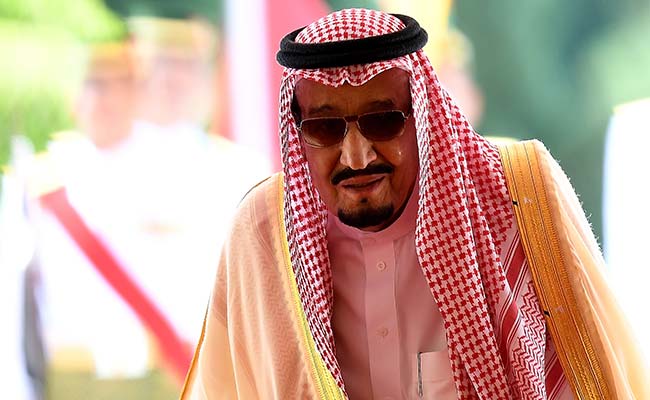 Highlights
King Salman's journey through Asia has been eye-catching due to its scale
The entourage's total baggage weighs a reported 506 tons
The trip has huge implications for regional politics and for Washington
Saudi King Salman bin Abdul Aziz's month-long journey through Asia has been eye-catching because of its scale. The world's most powerful royal is touring seven countries with a traveling court of more than 1,000 people, including 25 princes and 10 ministers. The entourage's total baggage weighs a reported 506 tons.
This week, Salman decided to extend his stay at a luxury resort on the scenic Indonesian island of Bali - perhaps an easy decision - ahead of stops in Japan and China. Salman began his trip in Malaysia, where he oversaw the inking of lucrative oil pacts and was apparently the subject of a foiled assassination attempt before he called on the sultan of Brunei.
The trip has huge implications, both for regional politics and for Washington. The Saudis are deeply aware of the need to diversify their economy, which is heavily dependent on oil exports, and are keen to attract investment from major Asian economies in addition to spreading their own largesse. They also see Southeast Asia, with its huge population of Sunni Muslims, as a realm where they can exert power.
At a time when uncertainty and political paralysis seems to be gripping the West, a pivot to Asia makes a great deal of sense. "There can also be no doubt that the not-too-subtle subtext of the king's tour is a signal that Saudi Arabia will preserve its flexibility when it comes to its dealings with the United States," wrote Gerald Feierstein in Foreign Affairs.
But one arena for Saudi expansion is perhaps surprising: the Maldives, which Salman will visit on the way back to Riyadh. The nation made of Indian Ocean islands may have a tiny population - about 400,000 people - but it is a vast ocean state, spanning some 1,000 kilometers across some of the world's most significant shipping routes. Controversy is swirling there about a reported Saudi plan to invest billions of dollars in Faafu atoll, which comprises 26 islands.
The Maldivian government, led by President Abdulla Yameen, has argued that the deal would lead to infrastructure investment and new housing in a country imperiled by rising sea levels. Critics insist the government is essentially handing a chunk of the country to foreign buyers in order to line its own pockets.
A government statement this week rejected such claims. "The administration categorically rebuts allegations that the atoll has been 'sold off' to a foreign entity," it read. But little has been revealed about the plans for the atoll or the nature of the investment deal.
"I find it very difficult to believe this is a straightforward commercial enterprise," said opposition leader Mohamed Nasheed during a trip to Washington. "Usually you have to have a proper, transparent bidding process, but President Yameen has chosen to do it in the dark."
Nasheed, who lives in exile in London, endured years of imprisonment as a political dissident before helping bring down a three-decade-long dictatorship. He won the Maldives' first free and fair democratic elections in 2008, but his rule was cut short by what most international observers characterized as a coup in 2012.
A tumultuous period followed, in which Nasheed won fresh elections, was thwarted by political opponents and eventually ended up in jail once more on trumped-up charges. The work of an international team of lawyers, including Amal Clooney, won him medical leave last year and led him to claim asylum in Britain.
But Nasheed has not given up the fight, and he said he worries about the corrosive influence the Saudis may have on his country. "It's one thing not to have democracy and freedom of expression, to have a dictator," Nasheed said. "But it's another thing to lose an atoll, to lose sovereignty. I am sure that the Maldivian people are very worried, and they may see how they want to push back these designs."
The disquiet extends beyond simply the Saudi role in the atoll deal. The Maldives is an almost-exclusively Sunni Muslim country. In recent years, a troubling religious radicalization has taken root in what was historically one of the most laissez-faire corners of the Muslim world. An estimated 200 to 300 Maldivians have gone to Syria to join jihadist groups, an astonishing statistic when you consider the size of the nation's population. (If Americans went to Syria in the same proportion, there would be just under 165,000 of them - at minimum.)
Nasheed lays this in part at the feet of the Saudis, who have spent decades spreading their stridently orthodox brand of Islam to other Muslim-majority nations. In Indonesia, the world's most populous Muslim country, a network of Saudi-built schools, mosques and medical facilities has bred both goodwill toward the kingdom and a new generation of adherents to its uncompromising faith. "This very narrow version of Islam favors their authoritarian rule," Nasheed said of the Saudis. "It has been propagated in the Maldives for many years and has created a breeding ground for radical Islam."
The Saudis aren't the only outside power interested in the Maldives. China sees the Maldives as a key linchpin in its vision of a "new maritime Silk Route," threading Chinese energy and trade interests to the Middle East. Beijing has been steadily expanding its footprint in the Indian Ocean and deepening ties with Yameen's government.
Nasheed suggests Beijing may also have a role in the Saudi atoll project and may use its increasing leverage over the Maldives to shoulder aside its regional rival, India. The Maldivian government last year gave a Chinese state-run company a 50-year lease on an uninhabited island near the capital isle, Male.
"We do not want to sit in the middle of a Cold War in between countries," Nasheed said.
But when the mammoth entourage of the Saudi monarch eventually circles over the Maldives' turquoise lagoons, it will be hard not to see the start of a new Great Game in Asia.
(Except for the headline, this story has not been edited by NDTV staff and is published from a syndicated feed.)