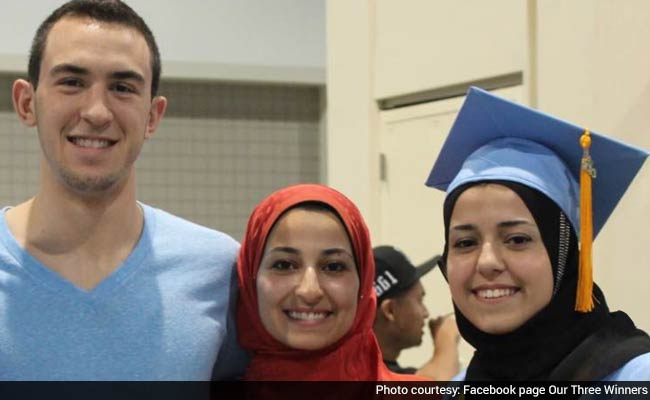 Chapel Hill, NC:
A 46-year-old man was charged with the fatal shooting of three students at a quiet condominium complex near the University of North Carolina campus, the police said Wednesday, in what may have been a lethal escalation of a neighborhood parking dispute.

The shooting, which left three Muslim students dead, occurred Tuesday around 5 p.m. and according to two 911 calls that came in just after the incident, five to 10 shots had been fired.

The three victims, one man and two women, were of Arab descent, and photos on Facebook show the two women wearing head scarves, leading to speculation on Twitter and Facebook, much of it with the hashtag #muslimlivesmatter, that the killings might have been a hate crime.


But a statement released by the Chapel Hill Police Department said, "Our preliminary investigation indicates that the crime was motivated by an ongoing neighbor dispute over parking," adding that the suspect, Craig Stephen Hicks, was "cooperating with investigators."
The Chapel Hill police chief, Chris Blue, acknowledged the speculation about a possible hate crime.
"We understand the concerns about the possibility that this was hate-motivated," Blue said in a statement, "and we will exhaust every lead to determine if that is the case."
The dead included a newlywed couple, Deah Shaddy Barakat, 23, and Yusor Mohammad Abu-Salha, 21, and Abu-Salha's sister, Razan Mohammad Abu-Salha, 19, all of whom were high-achieving students. Barakat was in his second-year in the graduate school of dentistry at the University of North Carolina, and his wife planned to enroll there in the fall. Razan Abu-Salha was an undergraduate at North Carolina State University.
They were mourned immediately around the world by Muslims who woke up to see news of the killings and expressed outrage at the loss of life, and the lack of news coverage overnight in the United States.
Wajahat Ali, writer and co-host of Al-Jazeera America's The Stream, who knows the family of one of the victims, described them as exemplary, Muslim-American success stories.
"The family is educated; these young people were exuberant, selfless, dedicated to local, national and international relief efforts," Ali said. "These were three bright young stars, not only in the Muslim community, but in America. This should not be seen as a tragedy and loss just for the Muslim community; it should be seen as a tragic loss for the American community, and the international community."
Ali added that the reaction around the world had been not only an "overwhelming and fierce outpouring of pain" but also anger over a perceived double-standard, which gave rise to the hashtag #muslimlivesmatter.
Several tweets making the rounds worldwide asked whether coverage would have been different had the shooter and the victims' roles been reversed; if the shooter were a Muslim, and the victims were not.
Hicks and the students were neighbors.
He lived in a ground-floor unit in the two-story condominium complex, tucked into the woods on Summerwalk Circle, about a mile and a half east of the main University of North Carolina campus. It appeared that Barakat and Yusor Abu-Salha lived in a second-floor unit in the same building.
Residents at the building said parking there was often complicated.
Some residents had stickers allowing them to park in reserved spaces, and others did not, and requests for people to move their cars were not uncommon.
Shadi Wehbe, 33, who has lived in the housing complex since starting at the University of North Carolina in 1999, said he believed he had had a brief interaction about two weeks ago with one of the women who was killed, when she came and nicely asked him to move his car.
"She said, 'Is that your beautiful car right there?' I said, 'Yes it is,'" Wehbe recalled.
The woman told him it was one space over from where it should be, and he happily moved it.

Wehbe, a Christian of Lebanese descent, said it was possible that there were multiple motives to the shooting.
"This may have started from a parking incident and turned into something else," he said.
The police said they responded to a report of shots fired in the area of Summerwalk Circle at 5:11 p.m. Tuesday, but they did not specify where the bodies were found. Hicks was charged with three counts of first-degree murder, and according to news reports, appeared in court in Durham on Wednesday morning.
The Associated Press reported that state Chief District Judge Marcia H. Morey ordered Hicks, in shackles and wearing an orange jumpsuit, to be held without bond.
On Hicks' Facebook page, he describes himself as a former auto parts dealer who has studied to be a paralegal, and he appears to be an ardent critic of religion. He expressed support for groups like Atheists for Equality, and the Freedom from Religion Foundation.
Last month, he posted a photo that says, "Praying is pointless, useless, narcissistic, arrogant, and lazy; just like the imaginary god you pray to."
He also posted a photo of what he said was his .38-caliber, five-shot revolver.
The news of the killings spread quickly through the Muslim community worldwide, with many expressing grief and outrage.
The Facebook pages of Barakat and Yusor Abu-Salha showed that they were married Dec. 27, and that he was active in using his dental skills for charitable work. A website with him narrating a video says he and other dental students planned to go to Turkey this summer to provide dental care to refugees from the civil war in Syria. His most recent Facebook post, from Jan. 29, says, "Tonight we provided free dental supplies and food to over 75 homeless people in downtown Durham!"
Friends and family members created a Facebook page, Our Three Winners, to share memories and photos of the slain students.
Several of the Facebook posts showed images of Barakat and Yusor Abu-Salha at their wedding. Others highlighted Razan Abu-Salha's artistic talents, noting that she had won an award from North Carolina State University for capturing 3-D abstract model-making with time-lapse video.
"Based on the brutal nature of this crime, the past anti-religion statements of the alleged perpetrator, the religious attire of two of the victims, and the rising anti-Muslim rhetoric in American society, we urge state and federal law enforcement authorities to quickly address speculation of a possible bias motive in this case," Nihad Awad, national executive director of the Council of American-Islamic Relations, said in a statement.
The University of North Carolina issued a statement saying that it was "sensitive to the impact an incident of this nature has on campus and in the community" and would make counseling available to students.
"We understand you want to know the facts as quickly as possible," the university said. But "we must respect the job our Chapel Hill police have as they investigate this crime."
The chancellor of the university, Carol L. Folt, was expected to make a statement Wednesday.
© 2015, The New York Times News Service
© 2015, The New York Times News Service