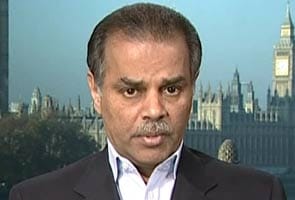 Islamabad:
The complex political and legal drama Pakistani reporters call "Memogate" veered into unexpected territory on Wednesday, when an American businessman who claims that Pakistan's government asked the United States to help it stave off a military coup admitted that he once played a supporting role in a racy music video that featured naked female wrestling.
The businessman, Mansoor Ijaz, told The Associated Press that he did act in the 2004 video for "Stupidisco," an Italian house music anthem, but denied that he was present during any nude scenes. The admission came after Pakistani bloggers discovered two versions of the video on the Internet, both of which feature a cameo of Mr. Ijaz playing the part of a ringside commentator on a wrestling match between two women. An X-rated edit ends with the women tearing each other's bikinis off. Mr. Ijaz's lines of dialogue in the video are sexually suggestive and include one word that is bleeped out.
After links to the video were passed around on Twitter on Wednesday, Mr. Ijaz insisted that supporters of President Asif Ali Zardari had drawn attention to the clip in an effort to damage his credibility as a witness.
As my colleague Declan Walsh reported, last year Mr. Ijaz "made a startling claim: that in the acrid aftermath of the Bin Laden raid on May 2, he had been asked to take a secret letter to the Americans seeking protection for Mr. Zardari's government from a possible military coup. In exchange, it offered to dismantle part of the country's powerful spy agency."
Pakistan's Supreme Court is carrying out an investigation into the unsigned memo, which Mr. Ijaz asserts was dictated by Husain Haqqani, Pakistan's ambassador to Washington. Mr. Haqqani, since recalled to Pakistan, has denied that account.
Mr. Ijaz has promised to travel to Pakistan to testify to the judges investigating the memo. He has already met with Lt. Gen. Ahmed Shuja Pasha, the head of Pakistan's spy agency, the Inter-Services Intelligence Directorate. According to Mr. Ijaz, at about the same time that he acted as a go-between for Pakistan's civilian government, delivering the memo to Adm. Mike Mullen, who was then the chairman of the Joint Chiefs of Staff, the head of the Pakistani spy agency visited the Persian Gulf region to seek support for a coup.
Late Wednesday, the Pakistani blog Cafe Pyala, which helped draw attention to Mr. Ijaz's role in the music video - and discovered more footage of him on the set, in a behind-the-scenes clip - rejected his claim that it was acting on behalf of Mr. Haqqani, the former ambassador. Addressing Mr. Ijaz, the bloggers wrote: "We would just like to assure him that we do not have Mr. Haqqani goading us on and neither do, we think, any of the people on Twitter who first discovered and shared the video out of a love for, ahem, house music. We would like to admit that we did find it - and him in it - really funny."
According to the blogger who found the R-rated version of the clip on YouTube on Tuesday, it was the fact that Mr. Ijaz has appeared frequently as a "terror analyst" on Fox News in recent years that was his undoing. (On Sept. 10, 2003, for instance, Mr. Ijaz assured one of the network's anchors, "There is no ifs, ands or buts about the fact that there was a connection between Al Qaeda and Saddam Hussein.")
When the blogger who dug up the clip was asked on Twitter how he first made the connection between the video and Mr. Ijaz, he explained, "When I saw him on Fox News ages ago, I was like, 'That's that guy from that song.'"