Highlights
Police said, Matthew Phelps confessed to killing his wife on 911 call
Police found the wife with multiple stab wounds
"I had a dream and then she's dead on the floor,' he said
The alarming admission was delivered between labored breaths and anguished pauses.
"I think I killed my (wife) . . ." a man's low voice says on the phone.
The 911 operator asks him to elaborate: "What - what do you mean by that? What happened?"
"I had a dream and then I turned on the lights and she's dead on the floor," the man says. "Um, I have blood all over me and there's a bloody knife on the bed and I think I did it."
So begins a disturbing 6½-minute call, made just after 1 a.m. Friday, in which North Carolina resident Matthew Phelps, 27, appears to confess to killing his wife, Raleigh police said.
In audio from the emergency call, published by the Raleigh News & Observer, Phelps can be heard alternately sobbing and breathing heavily as he expresses bewilderment over what took place; he tells the dispatcher that he doesn't know what time it is or when he woke up.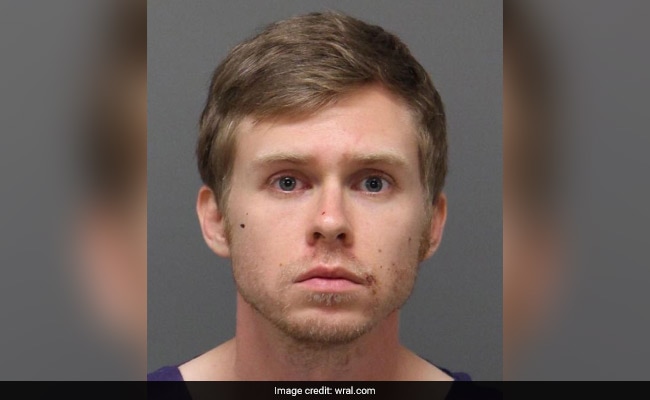 He does say he took cough medicine before he went to bed, according to the call audio.
"I took more medicine than I should have," Phelps says. "I took Coricidin . . . because I know it can make you feel good. So a lot of times I can't sleep at night, so I took some. . . . She's not moving. Oh my God."
The dispatcher repeatedly asks Phelps to check to see if his wife is breathing. Phelps tells him she is not, and that he's scared to get too close to her.
"There's all this blood," he says. "She didn't deserve this."
When police arrived at the home in northeast Raleigh, they discovered 29-year-old Lauren Phelps with multiple stab wounds. She was taken to a hospital, where she was pronounced dead, a police spokeswoman told the News & Observer.
Matthew Phelps was arrested Friday and charged with murder. He is being held without bond at the Wake County jail and is scheduled to make a court appearance Tuesday, according to court records. An attorney for Phelps was not listed.
Man tells 911 dispatcher he thinks he killed wife after taking too much cough medicine https://t.co/v5OIXObWD1pic.twitter.com/93KjqxLBKS

- ABC7 Eyewitness News (@ABC7) September 4, 2017
The couple's Facebook pages indicated that they shared a love for Star Wars and had just gotten married in November. Online albums for both of the Phelpses were filled with photos of the two of them together: at their fall wedding, posing with light sabers, holding a dog and goofing off for the camera.
Matthew Phelps worked at a lawn service company and had studied missions and evangelism at Clear Creek Baptist Bible College in Pineville, Kentucky, according to the News & Observer. He was studying to be a pastor while Lauren Phelps was a Sunday school teacher, ABC News reported.
Coricidin is marketed as a line of cold and cough medicine for people with high blood pressure. Bayer, the pharmaceuticals company that makes Coricidin, told ABC News in a statement it extended its "deepest sympathies" to the family.
"Patient safety is our top priority, and we continually monitor adverse events regarding all of our products," Bayer told the network. "There is no evidence to suggest that Coricidin is associated with violent behavior."
Meanwhile, a YouCaring fundraising page and a Facebook memorial page were set up for Lauren Phelps.
"My heart sank yesterday when I heard the passing of Lauren. I am in disbelief," one friend wrote Saturday on her Facebook remembrance page. "She was one of the purest souls one could ever meet. Her kind heart and sweet nature are an extremely rare find. She was a great friend to anyone lucky enough to call her one."
A memorial service for Lauren Phelps was held Monday in Wake Forest, North Carolina, according to a post on her Facebook page.
(Except for the headline, this story has not been edited by NDTV staff and is published from a syndicated feed.)
Get Breaking news, live coverage, and Latest News from India and around the world on NDTV.com. Catch all the Live TV action on NDTV 24x7 and NDTV India. Like us on Facebook or follow us on Twitter and Instagram for latest news and live news updates.