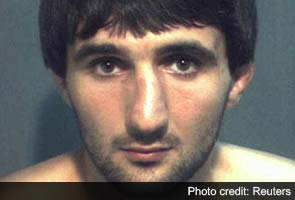 One lingering mystery in the investigation of the Boston Marathon bombings is whether the dead suspect, Tamerlan Tsarnaev, played a role in the unsolved killings of three men, one of them his best friend, in a Boston suburb in 2011.
That question deepened early Wednesday when a man in Orlando, Fla., who was being interviewed by at least one FBI agent and other investigators, implicated himself and Tsarnaev in those killings and then was fatally shot after he apparently tried to assault the agent, two senior law enforcement officials said.
The man, Ibragim Todashev, had been speaking for two hours in his apartment to officials from the Massachusetts State Police and the FBI about Tsarnaev and the Sept. 11, 2011, killings in Waltham, Mass., when he grabbed an object and tried to attack the agent, one official said.
"He exploded and leapt at him," said the official, who said the FBI agent sustained minor injuries that required stitches.
A second law enforcement official said the shooting occurred after Todashev had admitted his role in the killings and had also implicated Tsarnaev. The official said he had begun writing out a statement when he asked to take a break.
"They got him to confess to the homicides, and they say, 'Let's write it down,' and he starts writing it down. He goes to get a cigarette or something and then he goes off the deep end," the second official said. "I don't know what triggered him, and he goes after the agent."
The official said Todashev had something in his hand, "a knife or a pipe or something."
It was not certain who, or how many officers, had fired on Todashev. Nor was it clear why, with at least three law enforcement officials in the room, deadly force was used on someone without a firearm in his hands.
Asked, one law enforcement official said: "If somebody jumps on you and you have a gun, and you don't do something, the gun will quickly come into play."
Todashev's alleged oral admission and his subsequent death marked a bizarre twist in investigators' attempts to determine whether Tsarnaev participated in the gruesome killings in Waltham on the 10th anniversary of the Sept. 11 attacks. The throats of his close friend, Brendan Mess, and two other men were slashed and marijuana was spread over their bodies.
The second official described what in effect appeared to be a drug robbery.
"So Tamerlan says they have dope, they rip them off. Tamerlan says, 'They can identify me, so let's kill them.' And they kill them," the official said.
If Tsarnaev was involved, then the killings might shed light on the crucial questions of when he became violent and unstable, and whether that was before he traveled to his homeland in the North Caucasus region of Russia last year.
The recent focus on Tsarnaev's possible involvement in the Waltham killings has also raised questions about whether authorities in Massachusetts missed an opportunity to thwart the marathon bombings by not adequately pursuing Tsarnaev as a homicide suspect.
There was no indication Wednesday why Todashev - who, like Tsarnaev, was an ethnic Chechen - would have implicated himself and Tsarnaev in the killings. Investigators, who are seeking to determine how Tsarnaev made money, have been looking into whether Todashev and Tsarnaev were drug dealers, one of the law enforcement officials said.
Todashev had not signed a written statement about the Waltham killings before he was fatally shot.
"He had only said it orally but had not signed anything," said the first official. "But that was where it appeared to be heading."
The shooting occurred in a sprawling condominium complex in Orlando, less than a mile from an entrance to Universal Studios, where many of the residents work. On Wednesday, several streets in the complex were blocked by federal and local law enforcement officials.
The law enforcement official said that the authorities had spoken to Todashev at least twice since the April 15 bombings in Boston, which killed three people and injured more than 200.
Todashev and Tsarnaev saw each other regularly in Boston before Todashev moved to Florida about two years ago, although they were not particularly close, Tsarnaev's mother said in an interview in Russia.
"Tamerlan said he was a good guy. He said he was a boxer or some other kind of athlete," Zubeidat Tsarnaeva said by telephone from Dagestan.
She said she had broken down when she heard the news Wednesday.
"Now another boy has left this life," she said. "Why are they killing these children without any trial or investigation?"
The triple homicide stunned the community of Waltham, 10 miles west of Boston. The police were called to Mess' home on the afternoon of Sept. 12, 2011, after witnesses said a woman had rushed out screaming about dead bodies covered in marijuana, and blood everywhere.
Mess was strong and would have been difficult to subdue, and Tsarnaev was one of the most accomplished amateur boxers in Boston, a heavyweight. Some in nearby Cambridge who knew Mess and Tsarnaev grew suspicious of Tsarnaev when he did not show up for Mess' funeral, despite being a close friend.
© 2013, The New York Times News Service