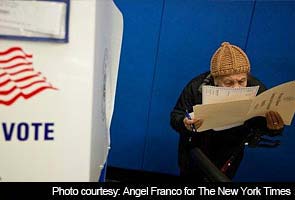 Washington:
People whose lives were upended by Hurricane Sandy joined other voters Tuesday to cast ballots after elected officials in New York and New Jersey rushed to relocate scores of polling places that had become unusable because of power failures, flooding or evacuations.
With neighborhoods still inundated by debris, silt and water, many people had to go to great lengths to cast a ballot in places that are little recovered from what officials describe as the worst storm damage to hit the New York City region, and where the prospect of more violent wind and torrential rain is looming this week.
Mayor Michael R. Bloomberg of New York said that a powerful nor'easter expected to hit the area late Wednesday could bring a surge in the water level of as much as 4.5 feet at high tides - far less than the hurricane brought ashore, but enough to reflood low-lying areas.
Bloomberg said that the city would not require an evacuation of its low-lying waterfront areas, but that police cars with loudspeakers would travel through several shorefront neighborhoods to alert residents. He implored residents to use shelters. The storm is expected to carry winds of 25-35 mph to the city, with gusts up to 55 mph late Wednesday afternoon.
With one eye on the approaching storm, untold thousands of residents in the region devoted their energy, patience and, in some cases, ingenuity to voting.
Just after daybreak in Bay Head, N.J., Shelly Coleman and her husband, Terrance, bundled up in winter jackets, left their sodden, water-damaged home and headed to the Bay Head firehouse, where a makeshift polling place had sprouted - literally overnight.
The couple walked through the sand-blown and mucky streets, sidestepping the occasional dead fish that lay on its side, a lifeless eye staring up at them. The firehouse, powered by an industrial-size generator that rumbled like the engine of a jet airliner, was one of the few places with heat in the tiny seaside borough, just below Point Pleasant Beach.
"Guess what? We got water back on Friday. It was so exciting," Shelly Coleman said, approaching the borough's clerk.
Another voter, Leslie Wentz, 58, said she had no heat and had not showered in days. The election, she said, was not her top priority, but she voted anyway.
"I think everybody is just in survival mode," she said. "Everybody is trying to survive. The town is doing a great job. The church is doing a great job, but I feel like the federal government is not coming in and doing anything. I can't get anybody to help me."
Though the region hit by Hurricane Sandy is not expected to be in play in the presidential election, the combination of the storm and heavy turnout yielded long lines, confusion, frustration and anger.
At several polling sites in New York City, the vote scanning machines being used for the first time in a presidential election malfunctioned, forcing workers to resort to paper ballots and slowing the process even more.
Maura Green was trying to vote in the East Village but her ballot was rejected by the scanning machine, and she had a hard time getting help from poll workers, some of whom were blaming one another for the problems.
"It seemed the poll workers were not very organized or didn't prepare," Green said. "It was very chaotic. They didn't seem to have a plan."
Bloomberg said in a briefing that he was aware of the problems. He said machines were delivered late to some sites, others opened late, there were long, confusing lines and some polling sites did not have sufficient fuel to power generators.
"Be patient; it is worth the wait to be part of the process," the mayor said. But he also criticized some of what was happening, like the jamming of ballot scanners and the collation of paper ballots for results.
"It is just a nightmare and it is really hard to understand in this day and age how you could do that," he said.
Bloomberg and other officials have emphasized the efforts the city has exerted to recover after the storm and provide tens of thousands of New Yorkers with food aid and emergency shelter, while also trying to coordinate the logistics of holding a presidential election so even voters in the worst-hit areas, like Staten Island and the Rockaways, can take part in it.
As of Tuesday, about 350,000 homes are still dark, Gov. Andrew M. Cuomo said. Although power has been restored to more than 1.7 million homes in New York since the storm hit, Cuomo affirmed his annoyance with Consolidated Edison and the Long Island Power Authority for the pace of restorations, a message that resonated among some voters as they made the trek to the ballot box.
Randy Harter, 66, an artist and designer, voted in Westchester County, where his frustration at what he described as an incompetent government response to the storm had transformed into frustration with his voting experience.
When Harter asked an election worker for help to fill out a paper ballot he had never seen before, he was told: "Just fill it out." When his ballot was inserted, the machine jammed. A second machine also jammed. He eventually was given an envelope in which to place a ballot that would be hand-counted. The entire voting experience took 45 minutes, Harter said.
On the Upper West Side of Manhattan, hundreds of voters waited on the sidewalk and packed into a gym at Public School 163. Voters had to wait in different lines to determine their election district, to get a ballot, to fill out the ballot and to get the ballot scanned. The process took an hour. There was no help for the disabled, and people grew increasingly upset.
Officials tried to make the process work smoothly especially for those living in areas hard hit by the hurricane.
New Jersey and New York both said they would allow voters uprooted by Hurricane Sandy to cast provisional ballots anywhere in their states.
But the provisional ballots would, in many cases, allow residents to vote only in statewide contests and in the presidential election, in which President Barack Obama is heavily favored in both states. The ballots could not be used in local and congressional races, which in some areas are far more competitive.
New Jersey went further, saying it will let displaced voters vote by fax or email. Ballot-integrity advocates warned that this raised risks of fraud by hackers, or mischief by partisan local officials because electronic ballots lack secrecy and are not safeguarded by witnesses.
On Tuesday, the line to vote at an East Village polling station extended half a block down First Avenue and rapidly built westward on Ninth Street. By 8:40 a.m., at least 175 people were patiently reading papers, manipulating smartphones and drinking coffee, advancing not even a foot a minute.
Alex Schroder, 23, said she hoped it would be no longer than an hour, because she had to get to her job as a preschool teacher.
"I am really excited to vote," she said, "so I don't mind waiting." She said that she really wanted Obama to win, and that the issues in this election - women's roles, economics, gay rights, the environment - were deeply important to her.
In Queens, Ann Dichter, 63, said she had never seen as busy a polling place in her 10-plus years there as she did Tuesday. Asked what was on her mind this day, she began a tirade against one of the presidential candidates, then stopped and summed up her mindset thusly: "Women's rights."
In New York, there are very tight congressional or legislative races in Queens, on Staten Island, on Long Island and in Westchester County, all of which were hit hard by the storm. Candidates in those races went to great lengths to ensure that their supporters could surmount the extraordinary obstacles to voting this year.
On Staten Island, the congressional campaign of Mark Murphy, a Democrat running against Rep. Michael G. Grimm, a Republican, sent volunteers to gasoline lines across the borough with iPhones to help idling voters figure out where they should go on Tuesday. Grimm's campaign said it was recruiting volunteers with full gas tanks to transport to the polls voters whose cars were destroyed or had no gas.
© 2012, The New York Times News Service