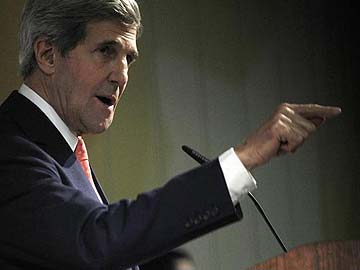 Washington:
Secretary of State John Kerry plans to visit Kiev on Tuesday in a gesture of support for the new Ukrainian government, a senior U.S. official said Sunday.
The announcement came just hours after Kerry warned that Russia risked eviction from the Group of Eight industrialized nations and that assets of Russian businesses could be frozen if the Kremlin did not reverse its military occupation of Crimea in Ukraine.
Kerry had been scheduled to travel Tuesday to an international meeting on Lebanon but will instead leave Washington on Monday for Ukraine, his first trip there as secretary of state.
Kerry will meet with senior Ukrainian leaders, and talk with the Parliament and civil society leaders, a senior official said. He will discuss measures to support Ukrainian politically, the official said.
Earlier Sunday, Kerry warned that if Russia continued its military campaign in Ukraine, the Russian president, Vladimir Putin, "is not going to have a Sochi G-8," a reference to the meeting of the industrialized nations that Putin of Russia to host in June. "He may not even remain in the G-8 if this continues."
"He may find himself with asset freezes on Russian business," Kerry added on an appearance on the NBC television program "Meet the Press." "American business may pull back. There may be a further tumble of the ruble. There's a huge price to pay."
Kerry's comments came as the Obama administration and its Western allies try to formulate their response on Putin's decision to deploy Russian forces in Crimea.
President Barack Obama has described the move as a "breach of international law." But administration officials have been slow to enumerate what specific actions the U.S. and its partners are prepared to take.
While there appears to be little the Western partners can do during the next several weeks to reverse the Russian intervention, the U.S. response appears to be aimed at discouraging a further Russian push into eastern Ukraine or additional Russia pressure on Georgia and Moldova, two former republics that, like Ukraine, have sought economic integration with the West. The Moldovan prime minister has meetings scheduled in Washington on Monday, and Georgia's prime minister met there with U.S. officials last week.
As for Crimea, the West is not contemplating military action, but diplomatic and economic measures to isolate Russia and raise the costs of its intervention.
"This is an act of aggression," Kerry said of Russia's moves in the last few days. "It's really 19th-century behavior in the 21st century."
"Russia has major investment and trade needs and desires," he added. "There could even be, ultimately, asset freezes, visa bans. There could be certainly disruption of any of the normal trade routine. There could be business drawback on investment in the country. The ruble is already going down and feeling the impact of this."
Compounding U.S. concern about the Russian intervention in Ukraine, Western officials said, are Kremlin efforts to mask its intentions.
Kerry spoke several times last week with Russia's foreign minister, Sergey V. Lavrov, who the secretary of state said had assured him that the snap military "exercise" Moscow announced had nothing to do with events in Ukraine.
But Russia began moving in reinforcements to the Sevastopol naval base Thursday and Friday, mostly by sea from Novorossiysk and Anapa, according to a senior Western official, who asked not to be named because he was discussing intelligence information.
The operation began Friday, well before Putin went to the Russian Parliament to seek approval for a military intervention in Ukraine. The initial operation involved thousands of troops, including Spetsnaz special forces, as well as specially trained marine and airborne units.
In a parallel move, the Russians resumed building a border fence in South Ossetia, the breakaway Georgian region, as soon as the Sochi Olympic Games ended, Georgia's prime minister said in an interview.
"Putin starts with a major advantage," Nicholas Burns, the former U.S. ambassador to NATO, said in a conference call organized Sunday by the Atlantic Council: "He has been very strategic and very decisive, and the Western countries are scrambling to catch up."
Burns said that the West's response needed to be diplomatic, not military.
"The option has to be to try to outmaneuver Putin in what will likely turn out to be a very lengthy struggle over Ukraine," he said.
Ukraine is latest issue in a troubled U.S. relationship with Moscow. After agreeing to co-host the Geneva peace talks on the war in Syria, Kerry has said, the Russians have helped Syria's president, Bashar Assad, reverse his fortunes on the battlefield by sending additional arms to Syria.
On arms control, the Obama administration has raised concerns that Russia may be violating the 1987 agreement that bans the production, testing and deployment of medium-range missiles.
© 2014, The New York Times News Service